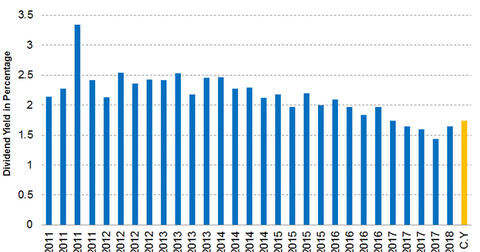 SWK's Dividend Yield Is on the Rise: Is It Attractive Enough?
By Peter Neil

Updated
Stanley Black & Decker's dividend yield
As of May 30, Stanley Black & Decker's dividend yield stood at 1.7%, showing an upward trend once again in comparison with the first-quarter dividend yield. Industrial peers Honeywell (HON), Deere (DE), and Caterpillar (CAT) have dividend yields of 2.0%, 1.5%, and 2.1%, respectively.
A dividend yield measures how much cash investors get in return for every dollar they invest in a company's equity apart from possible capital gains. Dividends provide constant cash flows for long-term investors. Before investing in a company, investors should check out its financials to see if it is strong enough to support and sustain its current and future dividend payments.
Article continues below advertisement
SWK's current dividend yield is a little bit lower compared to its peers. In fact, SWK's dividend yield is lower than the yields generated from the risk-free one-year Treasury bonds. In order to be more attractive for investors, SWK should increase its dividend rate. As we saw in the previous part, SWK has strong free cash flows and is in a position to increase the dividend rate to match the yields from the risk-free instrument. However, it should be noted that SWK historically has raised its dividend in the third quarter, which could boost its dividend yield.
Why is the dividend yield rising?
SWK's dividend yield is rising primarily due to the decline in its stock price. Since the beginning of 2018, SWK's stock price has fallen from $169.69 to the current price of $144.02 as of May 30, a decline of 15.1% on a year-to-date basis.
For indirect exposure to SWK, investors could consider the iShares Edge MSCI Multifactor Industrials ETF (INDF), which invested 2.6% of its portfolio in SWK as of May 30.