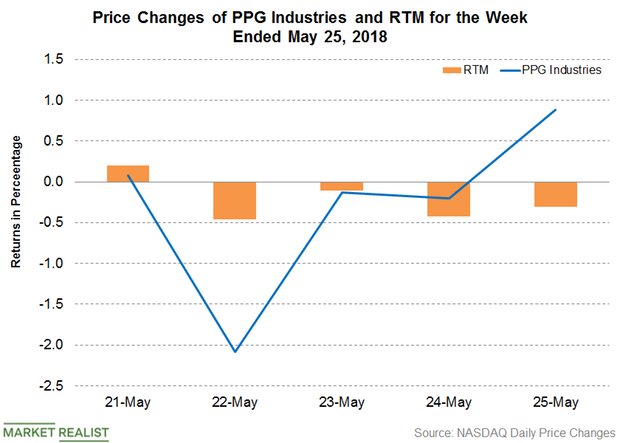 PPG Industries Gets Clearance from Pilatus Aircraft
By Peter Neil

May. 30 2018, Published 11:40 a.m. ET
PPG Industries gets okay from Pilatus Aircraft
On May 24, PPG Industries' (PPG) aerospace segment received clearance for exterior paint systems from Pilatus Aircraft for all of its production aircraft. PPG Industries' paint systems met the Pilatus specification of PMS0600-52-01. The clearance is an achievement for PPG Industries and a good business opportunity to grow its aerospace coatings business in the European region, which is currently below the market performance.
Article continues below advertisement
Pilatus Aircraft qualified the application of PPG Industries paints for the following aircrafts—PC-24 Super Versatile Jet, PC-12 NG turboprop airplane, PC-6 multirole aircraft, and the PC-21, PC-9 M, and PC-7 MkII military trainers. PPG DESOPRIME, PPG DESOFILL, and PPG DESOTHANE are the brands that would be part of the qualified paints.
Thorsten Schyler, PPG Industries' account manager for Pilatus, said, "PPG formulated the coatings systems with the latest innovative technology, enabling PPG to offer a coatings system that meets the application and performance needs of Pilatus. Having our metallic and mica paint systems be the first PPG systems qualified to a Pilatus specification is a milestone for PPG."
PPG Industries' stock price
PPG Industries stock remained under pressure. Law firms continue to alert investors about a possible class action for violating the federal securities law. PPG Industries' stock price declined 1.5% and closed at $103.4 for the week ending May 25. Despite a decline in the stock price, PPG Industries managed to trade marginally above the 100-day moving average price of $103.27.
On a year-to-date basis, PPG Industries has declined 2.3%. Sherwin-Williams (SHW) and RPM International (RPM) have fallen 4.3% and 1.7%, respectively, while Axalta (AXTA) has gained 0.1%. Analysts appear to be bullish on the stock and have projected a target price of $121.65, which is 17.6% higher than the closing price on May 25.
PPG Industries' 14-day relative strength index of 46 indicates that the stock isn't overbought or oversold. Investors can get indirect exposure to PPG Industries by investing in the Guggenheim S&P 500 Equal Weight Materials ETF (RTM), which declined 1.1% for the week. RTM has invested 3.6% of its portfolio in PPG Industries as of May 25.