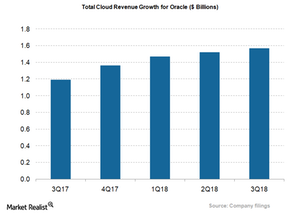 Oracle's NetSuite Extends Its Global Presence
By Aaron Hemsworth

May. 15 2018, Updated 9:00 a.m. ET
How is NetSuite expanding its market share?
Oracle (ORCL), which bought cloud-based ERP (Enterprise Resource Planning) operator NetSuite in July 2016, continues to extend its global presence. Its investment of ~$9.3 billion to acquire NetSuite seems to generate positive synergies for the company regarding market expansion and tapping mid-sized firms.
NetSuite is strengthening its product portfolio by offering local products and customer support for businesses in Germany, France, China, Japan, Brazil, and Mexico. NetSuite OneWorld, the company's unified global business management platform, helps manage operations, support global compliance, and achieve global insights.
NetSuite specializes in retail ERP solutions and is strengthening its competitive position in business operations such as warehouses, agencies, and its SuiteSuccess program.
In order to boost its product portfolio and to enhance its service, NetSuite is integrating with Oracle's PBCS (Planning and Budgeting Cloud Service). Moreover, NetSuite products are integrated with Oracle's warehouse management suite derived from its LogFire acquisition.
Article continues below advertisement
NetSuite's contribution to Oracle's business
From the graph above, we can see the revenue growth of Oracle's total Cloud segment in the last five quarters. During this period, it grew at a CAGR (compound annual growth rate) of 7.0%. In fiscal 3Q18, the total revenues from the cloud came in at ~$1.6 billion, an increase of 32.0% YoY (year-over-year). 
At the end of fiscal 9M18, the company's total cloud revenues stood at $4.6 billion against $3.2 billion in fiscal 9M17. In fiscal 3Q18, Oracle's total SaaS revenues reached ~$1.2 billion, an increase of 33.0% YoY.