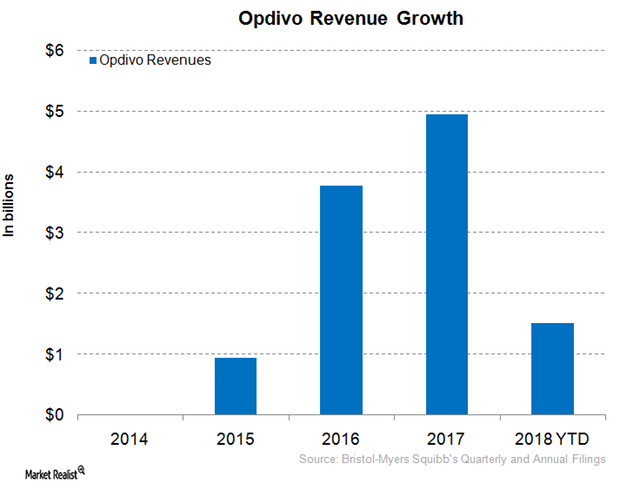 Opdivo May Witness Decline in This Target Patient Population
By Margaret Patrick

May. 29 2018, Updated 7:33 a.m. ET
Revenue breakdown
At the end of Q1 2018, Bristol-Myers Squibb's (BMY) Opdivo earned 40% of its revenues in the US market from the lung cancer indication, while the remaining US market revenues were attributable to demand for the drug in other tumor types. By the end of Q1 2018, the drug had managed to maintain its market share in the second-line lung cancer segment in the US.
The lung cancer indication also accounted for 47% to 48% of Opdivo's sales in European markets. The renal cell carcinoma indication accounted for 16% to 17% of the drug's revenues, while the remaining revenues were earned from other tumor types in this market. Bristol-Myers Squibb has been witnessing robust uptake of Opdivo in international markets such as Japan, Italy, France, and Germany. The company has also managed to secure broad coverage for Opdivo in the majority of the key indications across multiple international markets. Bristol-Myers Squibb expects to witness continued demand for Opdivo in ex-US markets in first-line RCC and adjuvant melanoma indications.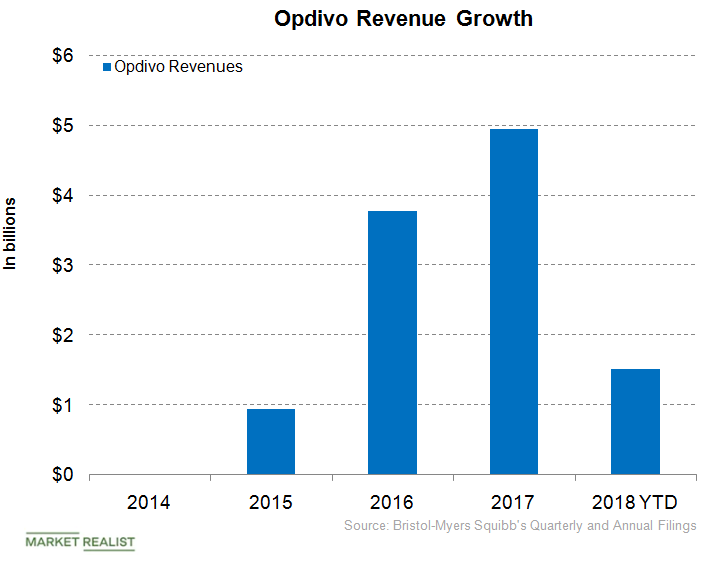 The above diagram shows the revenue growth trajectory of Opdivo from 2014 to 2018 on a year-to-date (or YTD) basis. Opdivo is competing aggressively with other checkpoint inhibitors such as Merck's (MRK) Keytruda, Roche Holdings' (RHHBY) Tecentriq, and AstraZeneca's (AZN) Imfinzi.
Article continues below advertisement
Second-line non-small cell lung cancer
At the end of Q1 2018, Opdivo accounted for almost a 40% share of the second-line immunotherapy eligible non-small-cell-lung cancer (or NSCLC) patients in the US. However, FDA approval of Keytruda in combination with carboplatin and pemetrexed in first-line nonsquamous NSCLC indication regardless of PD-L1 expression levels, based on results from Cohort G1 of KEYNOTE-021 trial, is expected to reduce the target patient pool for Opdivo in second-line NSCLC indication from 2019.
The confirmatory trial for KEYNOTE-021G, KEYNOTE-189, evaluating Keytruda in combination with pemetrexed and carboplatin or cisplatin, has highlighted the overall survival benefit and progression-free survival benefit of this combination regimen in the first-line NSCLC indication. The FDA has granted priority review for Merck's supplemental biologics license application (or sBLA) based on KEYNOTE-189 trial data. Bristol-Myers Squibb expects to witness stable market share in the second-line NSCLC segment in 2018.
The company, however, has continued to witness solid demand trends in Europe in this indication, since a combination regimen of chemotherapy and PD-1 inhibitor in first-line NSCLC indication hasn't yet been approved in that market.
In the next article, we'll discuss label expansion programs of Opdivo in greater detail.