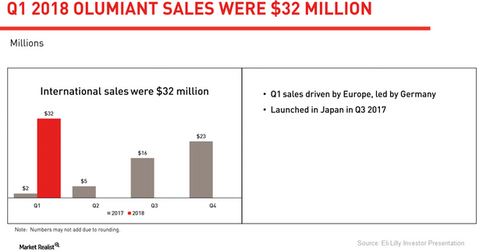 Olumiant: A Key Drug in Rheumatoid Arthritis Indications
By Margaret Patrick

Updated
FDA Advisory Committee recommendations for Olumiant
On April 23, the FDA Advisory Committee voted in favor of the 2mg dosage and against the 4mg dosage of Eli Lilly (LLY) and Incyte's (INCY) Olumiant (baricitinib). These treatments are for patients suffering from moderate-to-severe rheumatoid arthritis (or RA) and who did not respond sufficiently or could not tolerate methotrexate treatment. While the committee was convinced about the efficacy of both dosages, the safety data for 4mg Olumiant dosage was found inadequate for securing FDA approval.
Article continues below advertisement
Eli Lilly, however, expects the FDA to approve both dosages in the US in the RA indication, as Olumiant has already secured regulatory approval for both dosages in more than 40 countries. The company is planning to carve out a label for its 4mg dosage of Olumiant in a way that benefits the maximum number of RA patients.
The chart above highlights the revenue performance of Olumiant in international markets, which includes Germany and Japan.
Real-world efficacy
Eli Lilly expects the FDA to approve Olumiant with a label similar to that approved in international markets. This will also include highlighted risks such as deep venous thrombosis (or DVT) and pulmonary embolism (or PE).
However, the company claims that physicians and patients in Germany have experienced benefits from Olumiant, in both 2mg and 4mg dosages, for RA indications in real-world settings similar to those seen in clinical trials. Eli Lilly had submitted more than 7,800 patient years of data from clinical trials to the FDA advisory committee. The company has accepted that venous thromboembolism (or VTE) is a possible risk factor for Olumiant. However, Eli Lilly hasn't witnessed the manifestation of this adverse effect in a clinical setting.
Eli Lilly believes that the underlying rate of adverse events in the Phase 3 trial evaluating 4mg Olumiant was in line with the rate seen in RA patient populations. Further, because the sample size tested for the 4mg dosage was small, Eli Lilly believes that the data may have been influenced by statistical noise.
If approved, Olumiant can enable Eli Lilly to compete effectively with other RA players such as AbbVie (ABBV), Pfizer (PFE), and Amgen (AMGN).