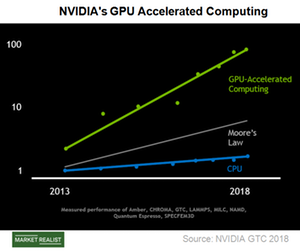 NVIDIA's Long-Term Vision of GPU-Accelerated Computing Pays Off
By Puja Tayal

Nov. 20 2020, Updated 1:18 p.m. ET
NVIDIA's long-term vision pays off
NVIDIA (NVDA) has converted from a chip company to a full stack computing company specializing in GPU (graphics processing unit) accelerated computing. NVIDIA was founded by Jensen Huang, Chris Malachowsky, and Curtis Priem in 1993 with an aim to offer high-end PC graphics solutions.
Article continues below advertisement
Graphics
At the company's Investor Day 2018, Huang stated that 25 years ago, NVIDIA started working on computer graphics. The company's management believed this is one of the pillars of future computing. Graphics is all about VR (virtual reality), and VR is all about simulating the laws of physics in the virtual world. 
The company's efforts started to pay off in 2000, as its graphics components were adopted by Microsoft's (MSFT) Xbox game console. Advanced Micro Devices (AMD) overtook NVIDIA in the game console market with its APU (accelerated processing unit).
However, after 18 years, NVIDIA has become a leader in the gaming GPU space with $5.5 billion in annual revenues and 70.0% market share. It's the most preferred GPU among PC gaming enthusiasts, and it also supplies the Tegra processor for Nintendo's Switch game console.
Accelerated computing 
Initially, NVIDIA developed the GPU that ran DirectX or OpenGL (Open Graphics Library). Once NVIDIA gained stability in the gaming space, the company expanded the application of the GPU by making it programmable. 
The company made several small acquisitions: 
In April 2002, NVIDIA acquired 3D graphics technology maker 3Dfx. 
In July 2002, it acquired graphics rendering company Exluna. 
In August 2003 and April 2004, it acquired Internet networking software companies MediaQ and iReady.
NVIDIA used all these companies' technologies to develop a new general-purpose computing system around graphics, simulated light, and physics. It also built a parallel computing platform, called CUDA, which shared the computing load between the GPU and traditional CPU (central processing unit) to accelerate processing.
In February 2008, NVIDIA started working on the concept of deep learning with the acquisition of PhysX processing unit maker Ageia. Deep learning works like a human brain wherein it uses teaching algorithms to process images.
Huang estimates that NVIDIA has spent $10.0 billion since 2010 to develop deep learning software and hardware. The company followed the approach of one-architecture and made CUDA backward-compatible with all its previous architecture.
Huang stated that GPU-accelerated deep learning grew significantly. In just five years, deep learning accelerated by 500x whereas CPU computing, which follows Moore's Law, accelerated tenfold in five years. 
In the last three years, NVIDIA's data center revenues rose fivefold from just $339.0 million in fiscal 2016 to ~$1.9 billion in fiscal 2018. Its GPUs have become a standard for AI with almost all major cloud companies and server manufacturers using NVIDIA's GPUs.
Now, NVIDIA is expanding in different verticals such as autonomous driving, manufacturing, and medical imaging where accelerated computing can bring a significant difference. We'll look into these new product developments next.
Check out all the data we have added to our quote pages. Now you can get a valuation snapshot, earnings and revenue estimates, and historical data as well as dividend info. Take a look!