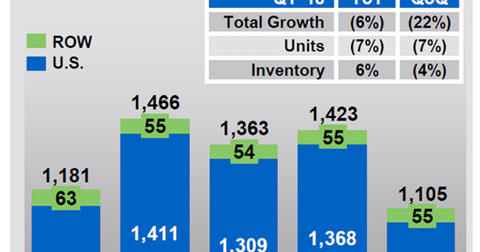 Neulasta, Neupogen, and Enbrel: Key Assets for Amgen in 2018
By Margaret Patrick

Updated
Growth trends for Neulasta and Neupogen
Despite a decline in the overall use of myelosuppressive chemotherapeutic agents, Amgen's (AMGN) Neulasta Onpro on-body injector continues to see a rapid rise in the United States. Its increasing convenience for patients, coupled with a reduction in hospitalization rates due to febrile neutropenia, helped Opro leave the first quarter with a market share of 62% in the US long-acting neutropenia segment. Amgen has secured a positive opinion for Neulasta Onpro from the CHMP (Committee for Medicinal Products for Human Use) in Europe. The company is also preparing to launch the device in many international markets.
At the end of the first quarter, Neupogen accounted for a 40% share of the short-acting neutropenia drug market in the United States, despite four years of competitive pressure. The drug is currently competing with Novartis's (NVS) Zarxio and Teva Pharmaceutical's (TEVA) Lonquex.
Article continues below advertisement
Enbrel growth trends
Amgen expects Enbrel's units sold and its net selling price to decline in 2018 YoY (year-over-year). In the first quarter, the market growth and volume trends for the drug were in line with the previous quarters. The company considers the first quarter of the year to have the lowest demand for Enbrel. The drug is expected to report 20% of its annual revenues in the first quarter, while the remaining 80% is expected to be distributed across the remaining three quarters of the year. In Q1 2017, the drug had a sharp YoY decline in revenues since the company had to bear higher patient assistance costs for patients undergoing insurance reverification or resetting of their deductibles.
In November, Amgen launched the Enbrel Mini, a reusable auto-injector with a single-dose pre-filled cartridge. The device has received positive feedback.
Amgen believes Enbrel's quarterly revenues in 2018 will be affected by uncertainties related to purchasing patterns and supply chains.
In the next part of this series, we'll take a look at the growth prospects for Amgen's Prolia, Sensipar, and Parsabiv.