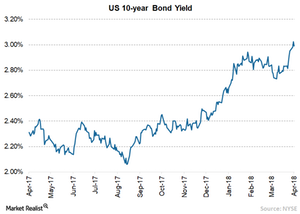 Mounting Evidence of Inflation Firming Up
By VanEck

Nov. 20 2020, Updated 10:47 a.m. ET
VanEck
Indications of late-cycle economy and rising inflation more evident
The U.S. Commerce Department reported retail sales fell in February for the third month in a row, while the University of Michigan Consumer Sentiment Index4 jumped to a 14-year high and the Conference Board Consumer Confidence Index5 hovers near 17-year highs. This suggests that while times are good for most people, they have little desire to spend more in an economic expansion that is one of the longest on record. Households may save their gains from the Trump tax cuts, rather than spend in the economy, as the Commerce Department reports the savings rate ticked higher in February.
Article continues below advertisement
We believe these are signs that the post-crisis economic and stock market cycle is approaching its end. There are also many signs indicating core inflation could move beyond the Fed's 2% target. The S&P CoreLogic Case-Shiller Index6 is 6.3% higher than its 2006 peak. A shortage has led lumber to record highs. Freight costs are near 20-year highs. General Mills CEO Jeff Harmening was quoted in The Wall Street Journal, "we are seeing an unprecedented rise in logistics costs". In the 12 state Midwestern region, job openings outnumber out-of-work job seekers. Idaho workers led the nation with a 5.3% increase in earnings in 2017 thanks to labor shortages. The Fed's February Beige Book saw employers raise wages and expand benefit packages in response to tight labor market conditions in most districts. Layered on all this are new tariffs that could raise the costs of a wide range of goods.
4A survey of consumer confidence conducted by the University of Michigan. The Michigan Consumer Sentiment Index (MCSI) uses telephone surveys to gather information on consumer expectations regarding the overall economy.
5The Conference Board Consumer Confidence Index® is an indicator designed to measure consumer confidence, which is defined as the degree of optimism on the state of the economy that consumers are expressing through their activities of savings and spending.
6The S&P CoreLogic Case-Shiller Home Price Indices are the leading measures of U.S. residential real estate prices, tracking changes in the value of residential real estate both nationally as well as in 20 metropolitan regions.
Market Realist
Household saving rate rising steadily
According to the Commerce Department, US retail sales (XRT)(IBUY) rose 0.6% in March, the largest increase since November. Auto sales jumped 2%, the most in six months. Though retail sales jumped after three months of consistent declines, it remains to be seen whether this rise will continue. While retail sales haven't picked up robustly despite higher income levels, the US household saving rate increased to 3.40% in February from 3.20% in January of 2018.
Underlying inflation firming up
According to the Labor Department, the US Consumer Price Index slipped 0.1% in March after climbing 0.2% in February, marking the first and largest drop since May 2017. Though consumer prices fell for the first time in ten months in March, the phenomenon seems to be temporary, as producer prices increased at a robust pace in March. Moreover, underlying inflation continued to firm amid rising prices for essentials like oil (USO), healthcare (XLV)(VHT), and rental accommodation. Plus, the tightening labor market is expected to start generating significant wage inflation in the later part of the year.