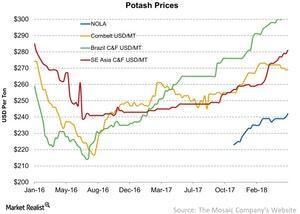 More Positives for NTR and MOS: Potash Prices Continue to Rise
By Adam Jones

Updated
Potash prices
Potash prices, similar to nitrogen and phosphates, continued to show strength last week as well. Prices at three of the four locations discussed below experienced a week-over-week increase.
Article continues below advertisement
Weekly movements
Granular potash prices in Brazil saw a steep weekly gain of 2.6% week-over-week to $313 per metric ton from $305 per metric ton a week ago. Similarly, granular potash prices in the NOLA (New Orleans) region of the US also rose by 83 basis points to $220 per metric ton from $218 per metric ton, while granular potash prices in the Cornbelt region of the US remained flat at $244 per metric ton week-over-week.
Looking at the standard grade of potash, we see a similar trend in the South East Asia location with a 72-basis-point increase to $281 per metric ton from $279 per metric ton. Compared to the same week a year ago, last week's potash prices were also higher by double digits in each of the locations except the Cornbelt region where potash prices rose 6% year-over-year.
In Brazil, potash prices rose 19% year-over-year, while NOLA and South East Asia both saw a 13% year-over-year gain in prices last week. Potash producers (XLB) such as Nutrien (NTR), Israel Chemicals (ICL), and Mosaic (MOS) could benefit from this upward-trending commodity cycle.
Next, we'll discuss fertilizer affordability.