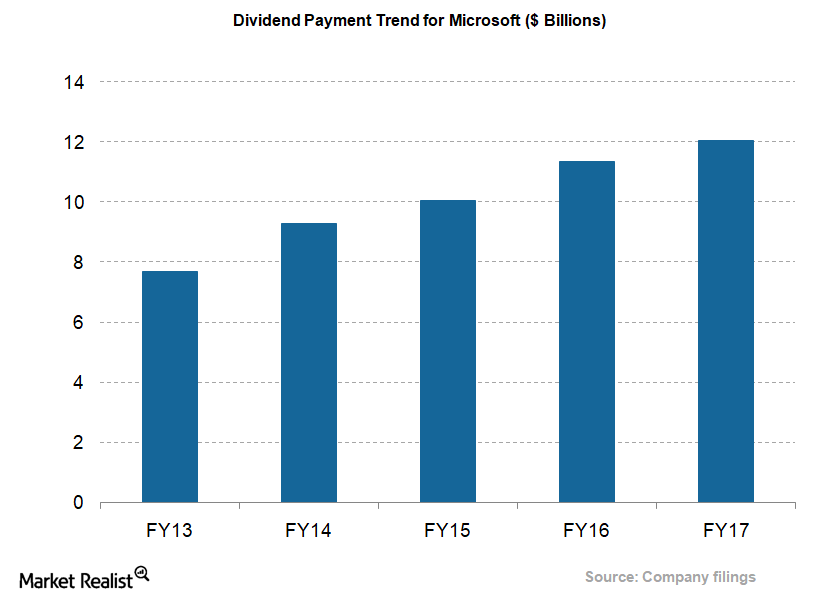 Microsoft Maintains an Increasing Dividend Payment Trend
Dividend payment history
Microsoft's (MSFT) uninterrupted dividend payment strategy on a quarterly basis has enhanced shareholder wealth through regular dividend payments. The company has maintained a history of raising its dividend every year.
In fiscal 1Q18,[1. fiscal 1Q18 ended September 30, 2017] Microsoft hiked its quarterly dividend by 7.7% to $0.42 per share. In the last four years, the company paid $50.4 billion, with an average dividend of ~$10.1 billion each year.
Article continues below advertisement
In the chart above, we can see the increasing dividend payment trend in the last five years for Microsoft. In fiscal 2Q18,[2. fiscal 2Q18 ended December 31, 2017] Microsoft paid nearly $3.2 billion in dividends compared with $3.0 billion in fiscal 2Q17. At the end of fiscal 1H18, the company paid $6.5 billion in dividends compared with $6.0 billion in fiscal 1H17.
Dividend yields and peer comparisons