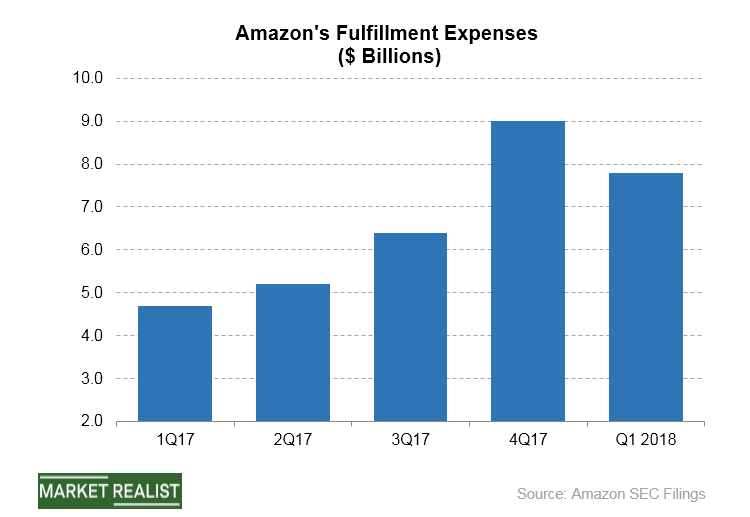 Making Sense of Amazon's Atlanta Fulfillment Facility Plans
By Neha Gupta

Nov. 20 2020, Updated 5:10 p.m. ET
Project could cost $100 million
Amazon (AMZN) is looking to build a new distribution center in Atlanta, according to an Atlanta Business Chronicle report citing sources familiar with the plans. Details of Amazon's plans for a new Atlanta fulfillment center are scant. For example, the exact site Amazon is eyeing for the facility isn't clear, although filings by engineering company Eberly & Associates on behalf of an unidentified client mentioned a multistory distribution center in Gwinnett County. Amazon could invest up to $100 million in the new Atlanta distribution facility and create as many as 1,800 jobs.
Article continues below advertisement
Cutting distribution distance to speed up deliveries
Amazon may prefer to build its new distribution center near a dense urban market to cut distribution distance, speed up package deliveries, and keep fulfillment costs low. In the first quarter, Amazon incurred $7.8 billion in fulfillment expenses, compared with $4.7 billion a year earlier. Fulfilling orders for customers is one of the larger components of Amazon's costs and expenses. Amazon's overall costs and expenses exceeded $49.1 billion in the first quarter, marking a 41.5% rise YoY (year-over-year). Meanwhile, expenses increased 16.7% at eBay (EBAY), 81.7% at Alibaba (BABA), 39% at Facebook (FB), and 32.4% at Google parent Alphabet (GOOGL). Considering these high fulfillment costs, locating a distribution center closer to customers could help Amazon control costs.
Atlanta under consideration for Amazon HQ2
Atlanta is one of the 20 locations Amazon is considering for its second corporate headquarters, HQ2. Amazon is planning to invest around $5.0 billion in HQ2, which it says could create as many as 50,000 high-paying jobs.