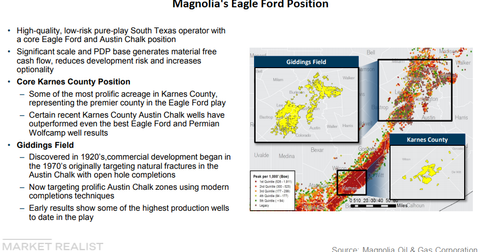 Magnolia Oil & Gas to Buy EnerVest's Eagle Ford Assets
By Keisha Bandz

Updated
TPG Pace to acquire EnerVest's shale assets
In March, TPG Pace Energy Holdings, a special-purpose acquisition entity formed by former Occidental Petroleum (OXY) CEO Stephen Chazen and backed by private equity company TPG Capital, agreed to acquire oil and gas assets from EnerVest within its South Texas division for ~$2.7 billion.
TPGE and EnerVest will create Magnolia Oil & Gas Corporation. Chazen will be the CEO of Magnolia, and EnerVest will operate the assets and own 51% of the company.
The acquired assets include 360,000 total net acres in South Texas (including ~14,000 net acres in Karnes County in the Eagle Ford Shale and 345,000 net acres at Austin Chalk in the Giddings Field) with production of over 40,000 boepd (barrels of oil equivalent per day) as of January.
TPG Pace Group and Chazen formed TPGE in early 2017 "to build a large scale, focused oil and gas business." Following its initial public offering in May, TPGE began its search for what it deemed "attractive assets."
Another example of a former high-profile executive now leading a company that began as a special-purpose acquisition vehicle is Mark Papa, the former head of EOG Resources (EOG), who is currently heading Centennial Resource Development (CDEV).
Article continues below advertisement
In a press release, Chazen said, "In creating Magnolia, we have a unique opportunity to build a new company anchored by what we consider to be some of the highest quality oil-producing acreage in the country." He added, "We believe Magnolia's acreage in Karnes County has some of the best economics in the United States and, when coupled with the upside in the Giddings Field, is a great fit with our criteria."
In the next article, we'll learn about another key Eagle Ford transaction this year.