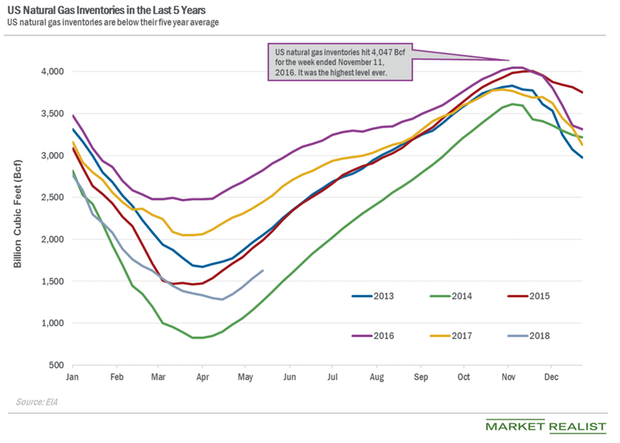 Largest Injection in US Natural Gas Inventories since 2015
US natural gas inventories  
On May 24, the EIA released its natural gas storage report. The EIA reported that US natural gas inventories increased by 91 Bcf (billion cubic feet) to 1,629 Bcf on May 11–18—the largest build in US natural gas inventories for this time of the year since 2015. However, the inventories were down by 804 Bcf or 33% from a year ago.
A Reuters survey estimated that US natural gas inventories could have increased by 92 Bcf on May 17–23.
US natural gas futures rose 0.9% to $2.94 per MMBtu on May 24. Prices rose due to warm weather forecasts. The United States Natural Gas ETF (UNG) seeks to follow active natural gas futures. UNG rose 0.4% to $24.02 on May 24.
Article continues below advertisement
The First Trust Natural Gas ETF (FCG) aims to track the performance of an index of companies mainly involved in natural gas production and exploration. FCG rose 1.6% to $22.79 on May 24. TC PipeLines (TCP), Enable Midstream Partners (ENBL), and Antero Midstream (AM) account for 1.4% of FCG's holdings. These stocks rose 4.4%, 2.9%, and 2.3%, respectively, on May 24. These stocks were the top percentage gainers in FCG's holdings on May 24.
Historical context 
The five-year average change in US natural gas inventories during this week of the year is a build of 86 Bcf. The inventories increased by 74 Bcf during the same period in 2017. The inventories rose by 106 Bcf on May 4–11.
Impact 
US natural gas inventories were ~23.4% below their five-year average, which is bullish for natural gas prices. An increase in natural gas inventories towards the five-year average could weigh on natural gas prices.
Next, we'll discuss US natural gas production.