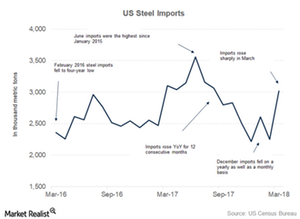 Investors Shouldn't Read Too Much into US Steel Imports in March
US steel imports surge in March
According to data released by the United States Census Bureau, imports for March 2–18 were 3.3 million tons, which is a huge surge of 34.2% compared to February. For the first three months of 2018, imports declined 3% compared to the same period last year.
Article continues below advertisement
While the surge in imports might seem counterintuitive, given the imposition of 25% import duties by President Trump on steel imports, the duties were in force for only the last week of March. We should see the real impact of duties in the coming months. The impact could be watered down by a number of countries that are exempt from the tariffs. On April 30, the temporary exemptions that are valid until May 1 were extended another month.
Imports to stabilize?
Going forward, steel imports are expected to stabilize at desired levels for the US steel industry. The Trump administration will closely monitor imports of steel and aluminum from exempt countries and could also impose quotas as appropriate.
Encouraged by the tariffs, U.S. Steel Corporation (X) announced the restart of its Granite City plant. Nucor (NUE) announced a new rebar mill.
Increasing imports
Due to increased imports in March, the market share of imported steel in the United States was higher at 26% for March compared to 25% year-to-date. The market share, which reached 27% in 2017, has been declining in 2018. While this market share is still higher than the 20% level, which is considered normal, tariffs should be able to push that down more.
In the next part of this series, we'll see how US steel production is progressing and how steel tariffs could impact production.