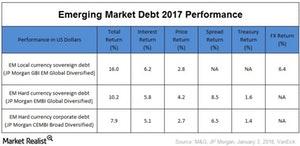 Investors' Fixed Income Barbell Choices
By VanEck

May. 9 2018, Published 9:48 a.m. ET
VanEck
SOKOL: You have laid out a good case to consider both emerging markets local currency bonds as well as floating rate investment grade debt. These seem, in many ways, at opposite ends of the spectrum from a risk perspective. So how could investors use these strategies to position their portfolios in this market?
RODILOSSO: You're right. It is a risk barbell, as we have been describing it. I think that we talked about why both asset classes might attract investors right now. To break that down even further, both tend to have low correlations to U.S. Treasuries. Your traditional core fixed income allocation is heavy on what's in the U.S. "Agg" [The Bloomberg Barclays US Aggregate Bond Index]1; Treasury bonds. It is a fairly long duration allocation if you're in the Agg. But Treasuries, agencies, and investment grade corporate debt, that's fixed rate. You can use this risk barbell to diversify in two directions: get some floating rate exposure to reduce your overall duration, get some emerging markets exposure to achieve some yield in your portfolio, and get lower correlation to U.S. 10-year Treasury performance.
Article continues below advertisement
 As I mentioned, from a fundamental perspective, things at the moment look okay for most emerging markets. Also, emerging markets have higher real yields than their developed market counterparts. What does that mean? It means their yields are above their inflation rates; they are in positive territory. About 2.5% on average. Whereas in the U.S., it is about 0.5% on average real yield. And in developed markets overall, it's in negative territory. That means emerging markets have a lot more policy flexibility. You will see some emerging markets central banks are still easing this year. It is an asset class where you can still achieve carry and still potentially achieve some capital gains on the rate side. The currency side is a risk, but there is potential for currency appreciation as well.
SOKOL: So a fixed income barbell to diversify away from U.S. Treasuries, but potentially benefit from the tailwinds of global growth?
RODILOSSO: Right.
Market Realist
Emerging local currency debt a good option?
2017 saw some headwinds turn into tailwinds, which led to the global economic recovery and market gains. As we discussed in the first part of this series, not only did the emerging equity market benefit last year, but the fixed income space also enjoyed some gains. Emerging local-currency debt, in particular, returned 16% in 2017. Meanwhile, emerging market hard-currency sovereign debt returned 10.2%, and emerging market hard-currency corporate debt returned 8%. The J.P. Morgan GBI-EM Global Diversified Index serves as a benchmark for emerging local-currency sovereign bonds.
Article continues below advertisement
Emerging local currencies (EMLC) provide investors positive real yields. Positive real yield is essential to curb inflation risk since inflation reduces the value of an investment. Positive real yield also helps central banks ease monetary policy in emerging markets during periods of market distress. Even though local-currency bonds are susceptible to currency risks, investors can also take advantage of currency appreciation.
Why floating-rate investment-grade debt?
In the fixed income risk barbell, investors have the option to diversify their portfolio with emerging local-currency debt and floating-rate investment-grade debt (FLOT). Floating-rate investment-grade bonds don't pay a fixed interest rate, unlike other bonds. Floating-rate bonds pay a variable interest rate, which is based either on the federal funds rate or LIBOR (the London Interbank Offered Rate). So these bonds act as cushions when interest rates increase, as they pay higher yields.
Another plus side of these bonds is that they have low correlations with stocks (SPY), government bonds, and other asset classes, providing diversification benefits to income investors. The chart below shows that floating-rate notes are negatively correlated with the U.S. Treasury. These bonds offer some protection against interest rate risks and inflation risk.
In a fixed-income risk barbell, investors have an option to diversify their portfolio with high-yield emerging market local bonds and to protect their investments from rising rates with floating-rate investment-grade debt (FLTR). That being said, like any other investments, these bonds also carry some amount of risks.