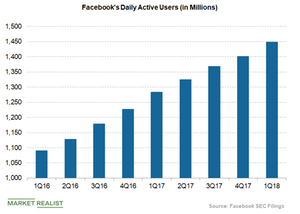 Inside Facebook's Clashes with WhatsApp CEO over Data Privacy
By Sophia Nicholson

Updated
WhatsApp CEO leaves the company
Facebook (FB) has recently had arguments with WhatsApp co-founder and CEO, Jan Koum, according to a report from The Washington Post. The discussions were over data privacy and the messaging app's business model, which ultimately led to the departure of Jan Koum. Facebook had acquired WhatsApp from Koum and his fellow co-founder Brian Acton in 2014 for a whopping $19 billion.
Facebook's focus on ad targeting
According to the report, Facebook has been pushing WhatsApp to change its terms of service so that Facebook can get access to phone numbers of WhatsApp users, which can be used to suggest Facebook friends. Facebook was also planning for unified profiles across its platforms that can be used for ad targeting as well as data mining.
Further, Facebook wanted to change the business model of the messaging app and waive off the $0.99 annual subscription fee, which created tensions between WhatsApp co-founder Koum and the parent company Facebook. According to Facebook, eliminating subscription charges could boost user growth. Facebook also looks to WhatsApp as a potential source of revenue through advertising or letting businesses chat with customers on WhatsApp.
However, it seems that WhatsApp co-founders didn't want to agree to Facebook's plans and therefore left the company. Acton, one of the co-founders of WhatsApp, supported the #DeleteFacebook campaign after Facebook got entangled with the ongoing Cambridge Analytica data privacy scandal. Facebook's data leak scandal also impacted other social media giants Twitter (TWTR) and Google (GOOGL), which also harness user data.
Facebook seems to bounce back
Despite the data and privacy issues, social media giant Facebook reported robust first-quarter 2018 results and delivered double-digit growth on a year-over-year (or YoY) basis. Facebook's daily active users (or DAUs) totaled 1.5 billion, while monthly active users (or MAU) reached 2.2 billion in the first quarter.