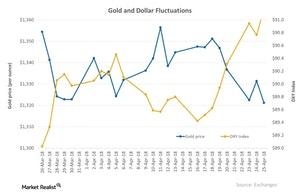 How Upswing in US Dollar Is Affecting Precious Metals
Dollar strengthens
Out of all the factors that can closely affect gold and other precious metals, the US dollar is the most crucial one. The US dollar, depicted by the US Dollar Index (or DXY), rose 0.45% on Wednesday. It has risen 1.7% in the five days to Wednesday. During the same time, gold fell 2.2%, and silver fell 4.3%. The dollar and precious metals move in opposite directions most of the time. On a YTD (year-to-date) basis, gold has risen 1.2%, while the dollar has fallen 1%.
The DXY Index touched approximately 91 on Tuesday, the highest level that the index has seen since January 2018. The chart below shows the performance of gold (IAU) compared to the US dollar (UUP) in the past month.
Article continues below advertisement
The US dollar, depicted by DXY, prices the dollar against a basket of six major world currencies. The dollar and gold tend to be inversely related since precious metals are dollar-denominated assets. Any rise in the dollar indicates lower demand for dollar-based assets such as gold and silver. Similarly, a drop in the dollar is beneficial for precious metals.
Negative correlation
The correlation between gold and the dollar since the beginning of 2018 is -0.85. A correlation of -0.85 indicates that about 85% of the time, gold moved in the opposite direction of the dollar during this period.
The precious-metal-based funds that closely track miners and may thus be impacted by the US dollar (UUP) include the Physical Swiss Gold Shares (SGOL) and the Physical Silver Shares (SIVR). They fell 2% and 0.93%, respectively, on Monday following the falls in precious metals.
Most mining companies followed the same trend as gold. However, a few diverted. Eldorado Gold (EGO), Hecla Mining (HL), Coeur Mining (CDE), and Barrick Gold (ABX) were up 1.6%, 0.52%, 0.48%, and 0.82%, respectively.