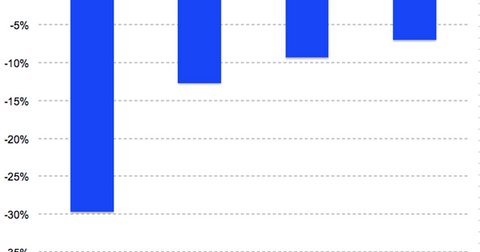 How the ZTE Ban Has Affected US Stocks
By Sanmit Amin

Updated
US-China trade tensions are causing havoc in US markets
The war of words between US and Chinese authorities is heating up. Chinese antitrust regulators recently blocked Qualcomm's (QCOM) proposed takeover of Dutch company NXP Semiconductors.
US authorities retaliated, putting a seven-year ban on US companies selling components to China's largest listed telecommunications equipment maker, ZTE (ZTCOY). The ban was applied because ZTE employees were found to have illegally sold telecommunications equipment to Iran and lied about it to the United States. After news of the ban, US suppliers to state-owned ZTE, including chip supplier Qualcomm, saw their stock fall.
Article continues below advertisement
Ban on ZTE causes suppliers' stock to plunge
Since the statement on April 16, Acacia (ACIA), which makes key telecom equipment components, has seen its stock fall ~30%. Meanwhile, Qualcomm stock has slid 9.3%, and NeoPhotonics (NPTN) and Xilinx (XLNX) have also fallen, as the graph above shows.
Meanwhile, the PHLX Semiconductor Index has slipped by ~5.0%, and the broader S&P 500 has been flat. A full-fledged trade war between the two countries could significantly dent American tech companies, which rely on China. Trade tensions have been among the main reasons for the S&P 500's recent correction.