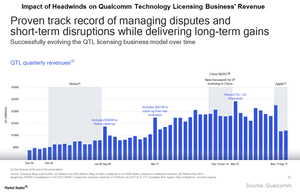 How the Qualcomm-Apple Licensing Dispute Is Coming Along
By Puja Tayal

Nov. 20 2020, Updated 4:49 p.m. ET
Qualcomm-Apple licensing dispute
In the earlier parts of this series, we saw that trade tensions between the United States and China (FXI) are impacting Qualcomm's (QCOM) business in China. These international headwinds are in addition to the headwinds the company is facing in the United States, its home base.
Qualcomm is currently in a lengthy licensing lawsuit with its largest customer, Apple (AAPL), and there seems to be no sign of resolution. In a recent update, MacRumors, citing a Bloomberg report, stated that Tim Cook, Apple's CEO, will be deposed on June 27. A deposition is a witness's testimony taken by attorneys outside of court that can be used in court, if necessary.
Article continues below advertisement
Synopsis of the Qualcomm-Apple dispute
The problems between Qualcomm and Apple started in January 2017 when Apple filed a lawsuit against Qualcomm, objecting to the chipset supplier's licensing model that charges a royalty for its technology on the selling price of the end device. Since iPhones are sold at a premium price, Apple ends up paying a higher price for the technology, which has nothing to do with the higher price.
During the lawsuit, Apple has halted licensing payments to its assembly partners who, in return, did not pay licensing fees to Qualcomm. Then Qualcomm filed a lawsuit against those assembly partners for breaching the contract by not paying the royalty. Qualcomm faced a fine from South Korea and blamed Apple for making false statements to trigger regulatory attacks from South Korea.
Qualcomm then filed a patent infringement case against Apple, looking to ban the sale of some iPhones in the United States and ban the export of iPhones to China. So far, neither party has achieved anything.
Could Apple end its relationship with Qualcomm?
The intensity of the legal battle resulted in many analysts predicting that Apple could completely ditch Qualcomm chips for Intel's (INTC) and MediaTek's chips. If that happens, Apple devices would suffer the same fate as ZTE devices. Apple would have to compromise on performance since both companies are behind Qualcomm in terms of technology.
Analysts are expecting the Apple-Qualcomm issue to resolve in 2019. But Qualcomm is skeptical about that date, although it hopes to end the dispute by then. In its fiscal 1Q18 earnings, the company set its fiscal 2019 EPS (earnings per share) estimate at $5.25 if the licensing dispute is not resolved and at $6.75–$7.50 if the dispute is resolved, indicating ambiguity around the lawsuit's outcome.
While Qualcomm's licensing business is plagued, its move to the PC (personal computer) chipset business hasn't been fruitful. Continue reading to see what happened to Qualcomm's PC venture.
Be sure to check out all the data we've added to our quote pages. Now you can get a valuation snapshot, earnings and revenue estimates, and historical data, as well as dividend information. Take a look!