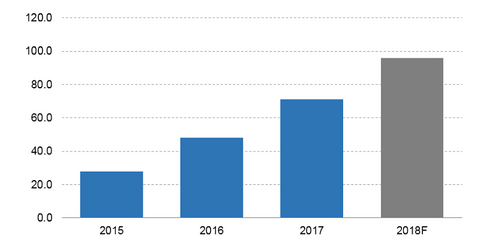 How Spotify Plans to Court Free Subscribers
By Ruchi Gupta

Updated
Premium service supplies 90% of revenues
Improving its free service could help Spotify (SPOT) attract more people to its service and provide it with a larger pool to recruit premium subscribers. Spotify charges $10 per month for its premium service and doesn't display ads to premium customers, which leads to a better listening experience. Free subscribers are monetized through ads, which puts Spotify in competition with Alphabet's (GOOGL) Google and Facebook (FB) for digital advertising funds.
Article continues below advertisement
Although premium subscribers accounted for 90.0% of Spotify's revenues in 2016 and 2017, premium subscribers are in the minority. Spotify exited 2017 with 157.0 million subscribers overall, with 71.0 million of them being premium customers. That implies that premium subscribers account for just 45.0% of Spotify's customer base.
Premium subscribers are also the minority at Pandora (P). At Apple, premium customers are the majority, accounting for more than 83.0% of its total music subscriber base. However, Apple only serves 40.0 million premium music subscribers, almost half that of Spotify.
Sweeter free service could discourage upgrade to premium service
While extending some premium features to free subscribers may help Spotify draw more customers to its service and persuade them to become paying subscribers, there seems to be a delicate balancing act in the strategy.
Enhancing the free service too much could actually encourage subscribers to stick to the free service, thereby slowing the upgrade to the premium service. Spotify is aiming to have 96.0 million premium customers by the end of 2018.
Keeping an eye on competitors
However, without making its free service attractive enough, Spotify faces the risk of losing customers to rival services such as Amazon (AMZN), Pandora, Tidal, and Google. Amazon's streaming music service is free with its Prime subscription, which costs $99 per year and offers a variety of benefits including free delivery.