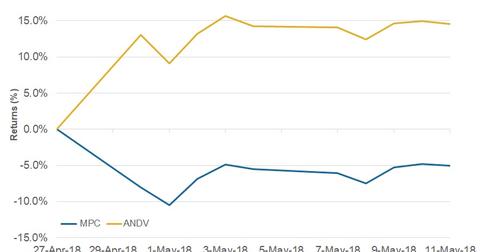 How MPC and ANDV Stock Have Reacted to Merger Announcement
By Maitali Ramkumar

Updated
MPC-ANDV merger
Marathon Petroleum (MPC) announced the acquisition of Andeavor (ANDV) on April 30. On that day, Marathon Petroleum stock closed at $74.9, around 8% lower than the previous day's close. In contrast, ANDV rose 13% up on the merger announcement day. On the same day, MPC also announced its 1Q18 earnings. Overall, since the merger news, MPC has fallen 5.0%, but Andeavor stock has risen 15%.
Article continues below advertisement
Why such stock reactions?
The decline in Marathon Petroleum stock since the merger announcement could mean that the market doesn't have a favorable view of this deal from MPC's perspective. Also, the negative reaction could be due to MPC's 1Q18 earnings, which missed estimates. The negative movement could also be a combined effect of both events.
In 1Q18, MPC's adjusted EPS stood at $0.04, missing the estimated EPS of $0.15. Also, the company's 1Q18 EPS stood 33% lower than its 1Q17 adjusted EPS. MPC's operating earnings from its refining and Speedway (or retail) segments fell year-over-year in 1Q18.
ANDV stock has risen since the merger announcement, which could be because of markets' favorable view the premium offered to ANDV shareholders by MPC. Also, markets perhaps believe that the deal will go through. Moreover, Andeavor reported a strong set of numbers on May 7 that exceeded Wall Street analysts' estimate.
ANDV's 1Q18 adjusted EPS (earnings per share) stood at $0.65 compared to its estimated EPS of $0.58, surpassing the consensus estimates. Also, ANDV's 1Q18 adjusted EPS stood 18% higher than its 1Q17 adjusted EPS. ANDV's operating income increased 64% YoY to $521 million due to the YoY rise in the operating incomes of the Refining and the Logistics segments, partially offset by a YoY fall in the operating income of the marketing segment.
Peers' performance
Since the day of the merger announcement, many of the companies' peers have risen. Valero Energy (VLO), Phillips 66 (PSX), and Delek US Holdings (DK) have risen 4.4%, 5.8%, and 4.3%, respectively, since the merger announcement. Plus, HollyFrontier (HFC) and PBF Energy (PBF) rose even more sharply by 11.9% and 10.9%, respectively.