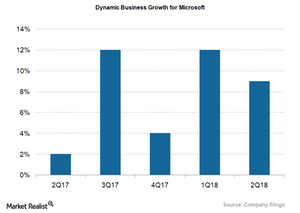 How Microsoft's LinkedIn Contributes to Dynamic Business Growth
By Aaron Hemsworth

Updated
New additions to create opportunities
On December 8, 2016, Microsoft (MSFT) completed the $27.0 billion acquisition of LinkedIn, the leading professional Internet platform. At the time of purchase, LinkedIn had more than 430.0 million users and nearly 100.0 million visitors every month. The deal helped Microsoft garner huge datasets while countering competition from other dominant players in the sales software category. 
The acquisition allowed Microsoft to drive its Dynamics CRM businesses. Its secure cloud platform may also support its LinkedIn business.
Article continues below advertisement
Microsoft (MSFT) combined its Dynamics CRM software with LinkedIn Sales Navigator. Microsoft's plan to integrate Outlook with the LinkedIn platform may also boost its performance. The successful integration of LinkedIn allows Outlook users to view the professional details of their contacts. Microsoft is also working on LinkedIn integration with Microsoft Word to allow users to create resumes.
Post-merger performance
The chart above illustrates the growth of Microsoft's Dynamic business in the last five quarters. In fiscal 2Q18, its Dynamics segment improved 9.0% on a constant currency basis while its Dynamics 365 revenues soared 68.0% on a constant currency basis.
In fiscal 2Q18, LinkedIn generated $1.3 billion in revenues, easily outpacing management's guidance of $1.2 billion. LinkedIn sessions were up more than 20.0% for the fifth consecutive quarter. Among its international regions, EMEA (Europe, Middle East, and Africa) and France have performed well while LinkedIn aims for huge markets like India and China to increase its growth.