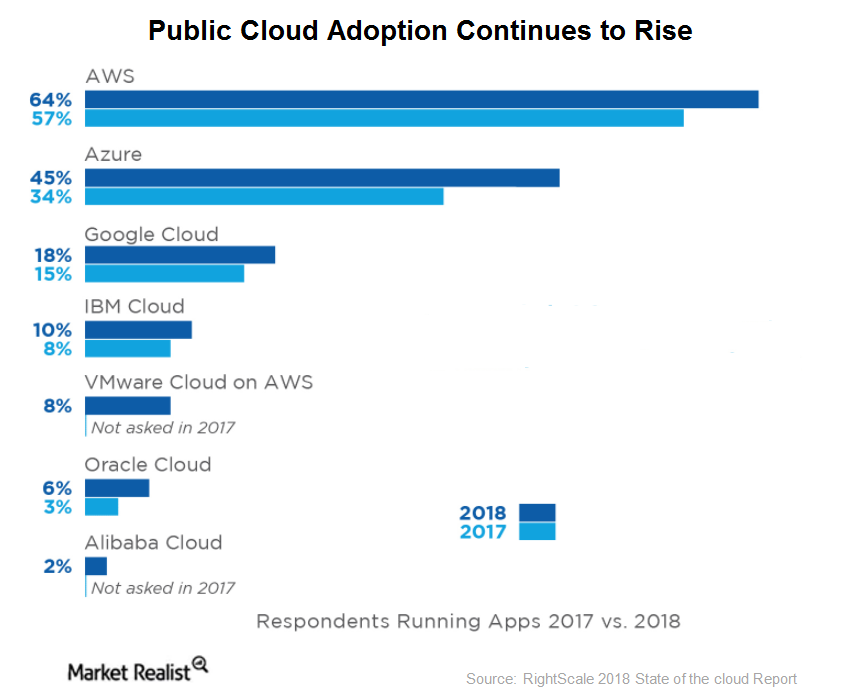 How High Cloud Growth Is Helping Microsoft
By Anne Shields

Dec. 4 2020, Updated 10:53 a.m. ET
Top five players control ~75% of the cloud space
In the previous article, we discussed growth in the cloud space in calendar 1Q18. Despite competition in the space, Amazon (AMZN) has maintained its leadership position. Public infrastructure-as-a-service and platform-as-a-service grew 56% in calendar 1Q18, accounting for the majority of the cloud space. According to Synergy Research, the top five players—Amazon, Microsoft (MSFT), IBM (IBM), Google (GOOG), and Alibaba (BABA)—control ~75% of the cloud space.
Article continues below advertisement
According to Synergy Research chief analyst and research director John Dinsdale, "Cloud growth in the last two quarters really has been quite exceptional." He added, "normal market development cycles and the law of large numbers should result in growth rates that slowly diminish – and that is what we saw in late 2016 and through most of 2017. But the growth rate jumped by three percentage points in Q4 and by another five in Q1. That is good news for the leading cloud providers, whose historically high levels of capex are helping to ensure that they are the main beneficiaries of that exceptional market growth."

Microsoft's improved position in the cloud space
Though Microsoft doesn't disclose revenue for its Azure or Office 365 businesses, it does provide growth figures. In fiscal 3Q18, Azure grew 93%, and Office 365 grew 42%. Through these cloud offerings, Microsoft has managed to capitalize on its long-standing dominance in the enterprise software space to provide server software to customers gradually transitioning to the cloud. Microsoft is now far ahead of other players and trails only Amazon.
According to the Wall Street Journal, Stifel Nicolaus analyst Brad Reback stated, "two years ago, there was a clear No. 1 with no clear No. 2," adding that "there is no doubt that Microsoft has put significant distance between themselves" and other Amazon competitors.