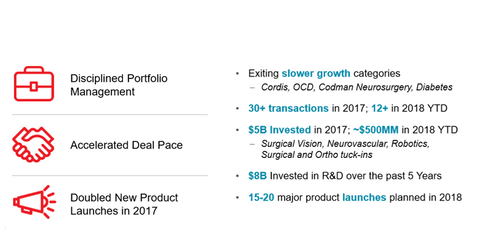 How Has JNJ's Medical Devices Business Evolved in Recent Years?
By Sarah Collins

Updated
Overview
Johnson & Johnson (JNJ) announced a major restructuring plan for its Medical Devices segment in 2016 owing to its weak performance. The company has projected a higher growth rate than the market's across all the segment's businesses going forward. However, JNJ is still short of achieving this target in some of its businesses, as its resources have been invested in the integration process instead of in innovation.
Though the company is on track to achieve savings of $800 million–$1 billion by 2020. Today, its Medical Devices segment is the leading player in the orthopedics, surgery, and contact lens markets.
JNJ states that restructuring disruption and sales force attrition have compounded its missed commercial execution targets in recent years. However, the company is convinced that it will achieve these targets and witness improving growth going forward.
Over the past year, the company has been successfully implementing restructuring initiatives in its Medical Devices segment. It has filled critical portfolio gaps, divested businesses with lower growth and no strategic fit, and expanded in high-growth adjacencies.
Article continues below advertisement
Restructuring initiatives and progress
Johnson & Johnson has built new platforms in the surgical vision and stroke businesses. The company has also divested its diabetes business, which is expected to be complete by the end of 2018. The divestiture is expected to improve the company's growth rate by one percentage point.
Johnson & Johnson launched double the number of products in 2017 it did in 2016, and it's expected to launch 15–20 new major products in 2018. The company is on track with its portfolio-optimization strategy wherein it is exiting slow-growth businesses and targeting high-growth markets and those with unmet needs.
In the next article, we'll discuss the shift in JNJ's Medical Devices research and development strategy.