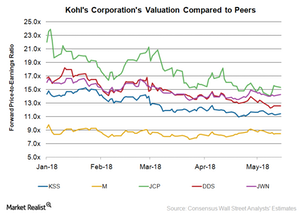 How Does Kohl's Price-to-Earnings Multiple Stack Up with Peers?
By Victoria Dean

Updated
Forward PE
On May 14, Kohl's (KSS) was trading at a 12-month forward PE (price-to-earnings) multiple of 11.4x. Following its 4Q17 results, the company's valuation multiple fell 9.8%.
The company is trading at a higher valuation multiple compared to Macy's (M), which is trading at a 12-month forward PE of 8.5x. On the other hand, JCPenney (JCP), Dillard's (DDS), and Nordstrom (JWN) are trading at PEs of 15.3x, 12.6x, and 14.2x, respectively, as of May 14,.
Forward PE multiples are calculated by dividing the stock price by analysts' earnings estimates for the next four quarters and are among the most used metrics for making investment decisions.
Article continues below advertisement
Analysts' growth estimates
Analysts expect Kohl's 2018 sales to be $19.2 billion, up 0.4%, while they expect the company's adjusted EPS to rise 26% to $5.28 on an adjusted basis. Analysts have made the following projections for Kohl's peers:
Macy's: 2018 sales to decline 0.5% to $24.7 billion and adjusted EPS to fall 4.2% to $3.61
JCPenney: 2018 sales to fall 3.1% to $12.1 billion and adjusted EPS to decrease 27.3% to $0.16
Nordstrom: 2018 sales to increase 1.5% to $15.7 billion and adjusted EPS to rise 18.3% to $3.43
Dillard's: 2018 sales to decline 0.7% to $6.4 billion and EPS to rise 20.6% to $5.79
A look at Kohl's dividend yield
The dividend yield reflects the cash flow received for each dollar invested in the company's stock. Kohl's current dividend yield is 4.1% based on its closing price of $61.18 as of May 14. In comparison, Macy's (M) current dividend yield stands at 5.1%, while Nordstrom's (JWN) yield stands at 3.5%. Dillard's (DDS) current yield based on its May 14 closing price is 0.6%. JCPenney doesn't pay dividends.
Apart from paying dividends, Kohl's also has an extensive share repurchase plan in place. For 2018, the company expects to buy back stock worth $300 million to $400 million. In 2017, it repurchased 7.7 million shares and had 168 million shares outstanding.