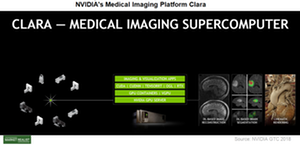 Healthcare: NVIDIA's Next Big Vertical for Deep Learning
By Puja Tayal

Nov. 20 2020, Updated 4:32 p.m. ET
NVIDIA's deep learning in vertical industries 
We have been talking about the new industry verticals NVIDIA (NVDA) has been exploring where deep learning can make a significant difference. At GTC 2018 (GPU Technology Conference), NVIDIA unveiled two new deep learning platforms: Clara for medical imaging and ISAAC for robotics.
Article continues below advertisement
Medical imaging
At GTC 2018, NVIDIA unveiled Clara, a new AI (artificial intelligence) platform for virtual medical imaging. The platform can connect to existing instruments and use the hospital dataset to virtualize workloads of different instruments. 
NVIDIA's vice president of healthcare, Kimberly Powell, told MobiHealthNews as Clara is modality agnostic and remote, one can do "computation all the way to through to the visualization and remotely visual all that information back on any display."
Powell explained that this computation would improve image quality and help doctors see and diagnose conditions that are difficult to identify. However, Clara is still in its early development and would take time to become operational. 
Powell stated that the company's experience in automotive would also help it in healthcare. Both industries are old and highly regulated because they affect people's lives so closely. So, they have high safety standards, complex business models, and lengthy change management procedures.
NVIDIA's other initiatives in healthcare
Medical imaging is just one part of healthcare. NVIDIA is working with MGH (Massachusetts General Hospital), Mayo Clinic, GE Healthcare (GE), and Nuance Health on various fronts to bring AI to healthcare.
At its Investor Day 2018, NVIDIA's SVP of Enterprise Business, Shankar Trivedi, stated that 40 AI projects are ongoing at the Center for Clinical Data Sciences in Boston. These projects are using ~10.0 billion images MGH gathered over the years. NVIDIA is looking to bring deep learning to medical imaging such as X-rays, CT, PET, ultrasound, and MRI to help diagnose conditions like prostate cancer or breast cancer faster and more accurately.
Trivedi said that NVIDIA would expand AI to other modalities include pathology and chemistry. In the long term, NVIDIA aims to bring deep learning in genomics, drug discovery, and medical records in order to personalize medicine.
Quantifying this opportunity for the data center, Trivedi stated that medical imaging would require DGX and Tesla GPUs to perform deep learning training and inferencing on the data collected from hospital instruments. This alone presents an opportunity of $1.0 billion–$2.0 billion. When deep learning is expanded to pathology, the opportunity would be even higher, as there are more chemical images in it.
More than 300 AI startups are working in healthcare. Arterys has secured FDA approval to use deep learning and AI for lung, cancer and liver detection. Another AI company, Paige, has installed a dedicated supercomputer to process pathology images.
Next, we'll look at NVIDIA's ISAAC platform for robotics.
Check out all the data we have added to our quote pages. Now you can get a valuation snapshot, earnings and revenue estimates, and historical data as well as dividend info. Take a look!