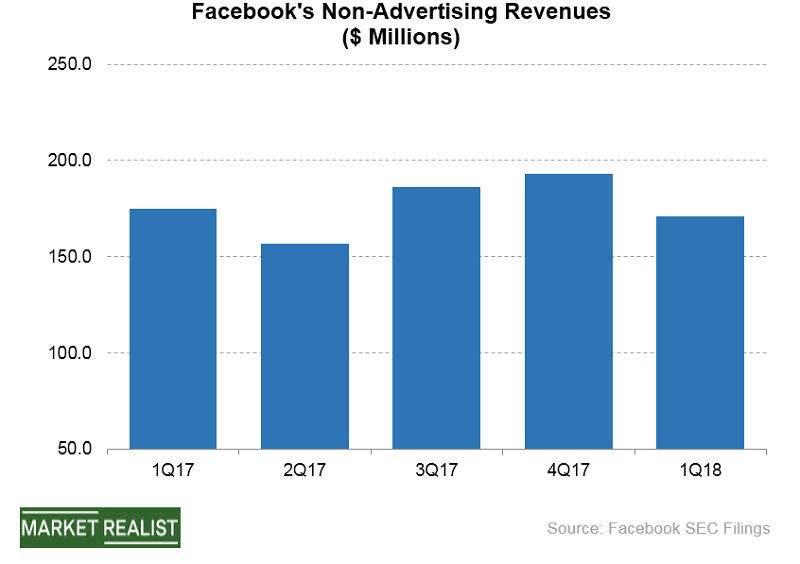 Facebook: There Remains a Need for Revenue Diversification
By Neha Gupta

Dec. 4 2020, Updated 10:53 a.m. ET
Facebook's share of digital ad spending expected to fall in 2018
According to eMarketer, Facebook (FB) took 19.9% of total US digital advertising funds in 2017, and Google (GOOGL) took 38.6%. Therefore, Facebook and Google alone accounted for 58.5% of US digital ad spending last year. That number is expected to fall to 56.8% in 2018, with Facebook's share of the market shrinking to 19.6% and Google's share of the market shrinking to 37.2%.
Despite Facebook and Google controlling the bulk of America's digital advertising budgets, their competitors are steadily eating into their share of the market, raising the need for them to create new revenue streams beyond advertising.
Article continues below advertisement
Alphabet's Verily selected for FDA program
At Google's parent, Alphabet, where advertising contributed 85.5% of overall revenue in 1Q18, efforts are underway to break overreliance on advertising funds. Through its Waymo unit, Alphabet is venturing into the self-driving business, with Waymo expected to launch a taxi service using driverless vehicles in parts of the United States before the end of the year.
Alphabet's Verily unit is geared toward life sciences, and last year it was selected alongside Apple, Samsung (SSNLF), Johnson & Johnson (JNJ), and Fitbit (FIT) to participate in an FDA pilot program that could lead to the faster approval of new digital health products.
Ads contributed over 98% of Facebook's revenue last quarter
Although Facebook has ventured into the digital payment and hardware spaces with its Oculus unit in efforts to create revenue sources beyond advertising, it remains tightly tied to the advertising market.
Advertising contributed 98.3% of Facebook's overall revenue in 1Q18. The company reported $171 million in non-advertising revenue in the quarter, representing a decrease of 2.0% year-over-year.