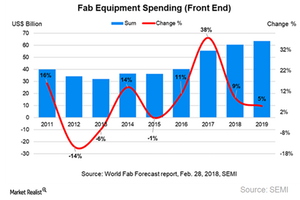 Fab Equipment Industry Outlook: What It Says about Lam Research
By Puja Tayal

Oct. 30 2019, Updated 9:50 a.m. ET
Why investors reacted negatively to Lam Research's guidance
Wafer fab equipment maker Lam Research (LRCX), which mainly supplies equipment to memory chipmakers, expects its shipments to fall $100 million sequentially to $3 billion in the June quarter. The highlight of its latest earnings was this decline. Analysts have been expecting the memory market growth to slow down in the second half of 2018 and for sales to decline in 2019 and 2020.
The memory market is cyclical, with a short period of uptrend followed by a downtrend. This time, the uptrend started at the end of 2016 and continued through early 2018, raising fears that it may end anytime. Hence, investors are reacting even to the slightest negative news. However, analysts are divided.
Article continues below advertisement
Analysts' comments on Lam Research
Investor Business Daily reported three analysts' views on Lam Research.
Nomura Instinet analyst Romit Shah stated in a note that Lam's shipment decline is a sign that memory chipmakers are postponing their equipment orders over fears of potential oversupply in the NAND (negative AND) market.
While Romit Shah finds lower shipments a negative indicator, Stifel finds it a positive indicator since it shows supply discipline among memory chipmakers. In a report, Stifel stated that Lam's lower shipment could ease bearish analysts' concerns of a potential overcapacity that may cause oversupply in the memory market.
KeyBanc analyst Weston Twigg stated in a note that a moderate decline in shipments is expected in the second half of 2018, but this demand could pick up in 2019, driving Lam's revenue growth.
Fab equipment outlook
SEMI (Semiconductor Equipment and Materials International) expects wafer fab equipment spending to grow 8%–9% in 2018 and 5% in 2019, driven by increasing fab equipment spending by Samsung (SSNLF) and China (MCHI).
SEMI expects 2018 equipment shipments to be largely driven by memory—26% growth in DRAM (dynamic random access memory) and 3% growth in NAND. It expects 2019 shipments by foundries to grow 29% as they ramp up production on the 7-nanometer process node.
SEMI expects China's fab equipment spending to increase 57% in 2018 and 60% in 2019, replacing South Korea (EWY) as the largest spender in 2019. South Korea's spending is expected to fall 9% and 14%, respectively. South Korea's major fab equipment spending is in memory chips since it houses the world's largest memory chipmakers Samsung and SK Hynix. That's where Lam Research earns most of its revenue. Since memory chip equipment sales are expected to slow down in 2019, so is Lam's revenue.
Next, we'll look at the world's largest foundry, Taiwan Semiconductor Manufacturing, and how the above outlook would impact its earnings.
Check out all the data we have added to our quote pages. Now you can get a valuation snapshot, earnings and revenue estimates, and historical data, as well as dividend information. Take a look!