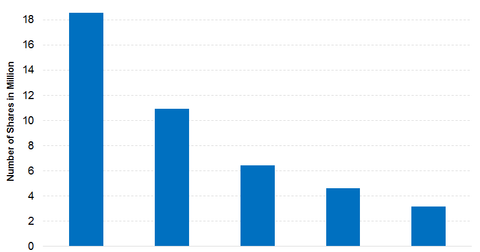 DowDuPont: Analyzing Institutional Investors' Holdings
By Peter Neil

May. 31 2018, Published 7:10 a.m. ET
Institutional holdings
The first-quarter 13F filings indicate that institutional investors own 70.9% of DowDuPont's (DWDP) outstanding shares. A total of 1,957 institutions hold DowDuPont. Among the institutions, 825 increased their positions on DowDuPont, 908 reduced their positions, and 224 maintained their positions. Although more institutions sold DowDuPont, more shares were bought by institutions than the number of shares sold.
Article continues below advertisement
What do the institutional activities suggest?
Institutional investors have been net buyers during the first quarter. Institutional investors bought 95 million shares, while they sold 75.3 million shares. The numbers suggest that institutional investors are bullish on the stock. Based on their 13F filings, below are the top institutional investors who added DowDuPont to their portfolio:
Norges Bank is a new entrant to the list of DowDuPont holders. Norges Bank bought 18.5 million shares and was the highest buyer for the quarter.
T. Rowe Price bought 10.92 million shares—an increase of 34.3% in its holdings. The current holdings stand at 42.76 million shares.
FMR bought 641 million shares—an increase of 8.7% sequentially. The institute holds 80.13 million shares.
Morgan Stanley (MS) bought 4.6 million shares, which took its holdings to 21 million shares at the end of the first quarter.
Goldman Sachs (GS) increased its position to 18.37 million by adding 2.87 million shares.
Investors could hold DowDuPont indirectly by investing in the iShares Global Materials ETF (MXI), which has invested 7.3% of its portfolio in DowDuPont and 2.7% in Monsanto (MON) as of May 29.