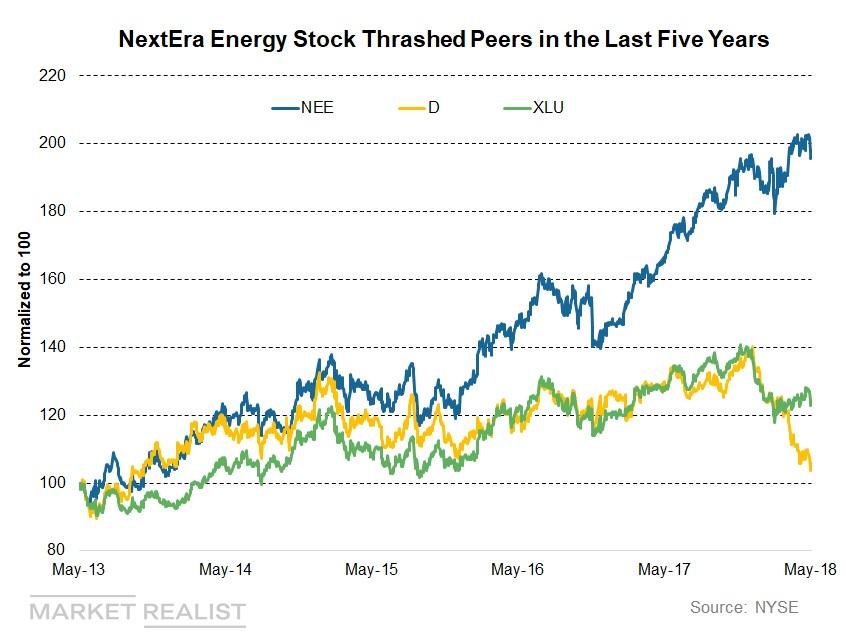 Dominion Energy and NextEra Energy: Impact on Dividends
Dividend outlook
Dominion Energy (D) and NextEra Energy (NEE) are both offering double-digit dividend growth for the next few years, which is more than double the industry average. Based on earnings growth, these utilities look fairly strong and could continue with their average dividend growth for the next few years.
The chart below shows a comparative stock price movement for Dominion Energy, NextEra Energy, and the broader utilities in the last five years.
Article continues below advertisement
NextEra Energy outpaced Dominion Energy
Given the premium dividend yield, Dominion Energy's dividend profile currently looks superior compared to NextEra Energy. However, Florida-based NextEra Energy significantly outperformed Dominion Energy and peer utilities in the last five years.
In this period, NextEra Energy's total returns were 18% compounded annually, while Dominion Energy returned 5%. In the same period, the Utilities Select Sector SPDR ETF (XLU), which tracks the S&P 500 Utilities Index, returned 8% compounded annually. Total returns are a combination of dividends paid and stock appreciation in a particular period.
NextEra Energy stock has consistently risen in the last few years, largely driven by higher earnings growth. With stronger market performance and healthier dividend growth, its total returns significantly outperformed its peers.
One major factor that could impact utilities' growth going forward is the interest rate. Increasing interest rates could dent profitability since debt servicing costs would rise. You can read more on this in Utilities Fall on Concerns of Higher Yields.
You can read about utilities' (IDU) (VPU) recent performances and where they might go in the near future in Weekly Review: What's in Store for US Utility Stocks?