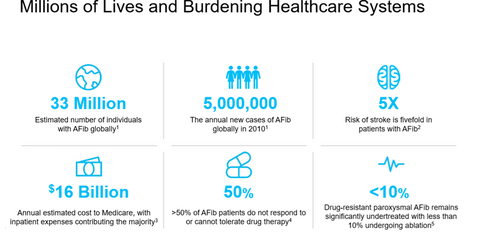 Discussing JNJ's Atrial Fibrillation Business's Growth Strategy
By Sarah Collins

Updated
Atrial fibrillation
Atrial fibrillation is a condition wherein an irregular heart rate leads to poor blood flow in the patient's body. Some treatment options include blood thinners, such as Xarelto, and anti-arrhythmic drugs, but it's been found that the response to these drugs is very weak in a large number of patients.
Thus, an interventional procedure called ablation is the most effective treatment option for this condition. The current penetration of the ablation procedure is just 10%, which offers significant growth potential in this market. Moreover, as per estimates, by 2030, the number of people suffering from atrial fibrillation will double.
JNJ's innovation strategy for atrial fibrillation therapy
Amid the recent shift to value-based healthcare and consolidation in the healthcare industry, cost efficiency and improving quality of care are the most important service aspects of healthcare providers. To address consumer needs, JNJ has put in place an innovation strategy focused on three areas:
the determination of location for ablation through high-density mapping solutions
the delivery of better procedures with shorter durations and high power
the simplification of the procedure with a single-shot device
JNJ believes this innovation strategy will lead to an increase in physician success rates from 60%–70% to 90%. With these innovations, procedure times have reduced from four to six hours to under two hours.
Strategy for continuing growth momentum
JNJ is working on expanding its commercial models to reach more customers. The company is also working on expanding its indications for ablation catheters to establish ablation as a first-line therapy and include persistent atrial fibrillation. Also, JNJ is looking beyond catheters and making investments in adjacent interventional solutions.
Atrial fibrillation is found to be the leading cause of strokes in patients. Let's discuss JNJ's growth strategy and products for the treatment of strokes in the next article.