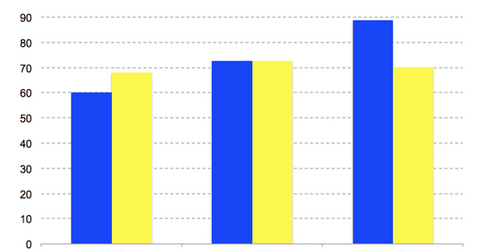 Digital Ad Spending Surpassed TV Ad Spending Last Year
By Sanmit Amin

Updated
Spending on online ads reached $88 billion in 2017
Over the last few years, spending on digital ads has been surging, and spending on TV and print have taken a back seat, fueling Internet stocks such as Facebook (FB) and Alphabet's (GOOGL) Google, which have a duopoly in the US digital ad space.
According to IAB, global spending on online advertising reached $88 billion in 2017, jumping 21% from the previous year. Spending on mobile ads, which grew 36.3% from 2016, represented 56.7% of that amount. Spending on mobile video ads reached $6.2 billion, up 54% from the previous year, while social media ad spending surged 36% to $22.2 billion.
Article continues below advertisement
Spending on TV ads is declining due to cord-cutting
According to IAB, online ad spending surpassed TV spending for the first time ever. The amount spent on broadcast and cable ads in 2017 was $70.1 billion, marking a 3% fall year-over-year.
The decline in TV ad spending is due to the cord-cutting trend, which is growing as more consumers opt for streaming services such as Netflix (NFLX) instead of traditional TV. While Facebook and Google are under increased scrutiny and regulation after recent events, digital ad spending is not likely to be significantly affected.