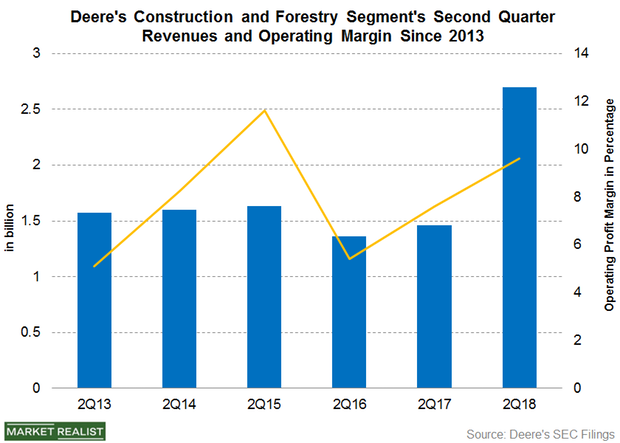 Construction & Forestry Segment's Revenue, Margins Improved
By Peter Neil

May. 22 2018, Updated 7:32 a.m. ET
Construction & Forestry segment
In the fiscal second quarter, Deere & Company's (DE) Construction & Forestry segment reported revenue of $2.7 billion, an 84% rise compared to the same quarter of the previous year, in which it reported revenue of $1.5 billion. The quarter saw the segment's highest second-quarter revenue in the past five years.
The segment's revenue growth was mainly driven by the company's acquisition of Wirtgen Group. DE completed the acquisition in December 2017. Wirtgen contributed 60% to the segment's growth. The segment's other significant growth contributions came from higher shipping volumes and a favorable currency hedge. Note that the segment's revenue could have been much higher if DE had passed on the cost of rising raw materials prices to its customers. However, DE has said that it will be taking action on pricing, which could have a positive impact in the upcoming quarters.
Article continues below advertisement
The Construction & Forestry segment reported an operating profit of $259.0 million in the fiscal second quarter, a rise of 133.3% from the corresponding quarter of the previous year, in which it reported an operating profit of $111.0 million. Higher shipments, lower warranty expenses, and Wirtgen Group's contribution helped the segment's operating profits to grow.
However, an increase in production costs dented its operating profits. As a result, the segment reported an operating margin of 9.6% compared to its level of 7.6% in the previous year—a gain of 200 basis points year-over-year.
Outlook
Wirtgen Group will likely continue to have a positive impact on the segment along with the continued strong demand in the United States. As a result, DE expects the segment's revenue to rise 83% in fiscal 2018, of which Wirtgen is expected to contribute 56%. The stability in the US dollar after its continued weakness could limit the gains from foreign exchange. Further, the company's promised pricing action could also drive the segment's revenue.
Investors looking to hold Deere indirectly may want to opt for the First Trust Indxx Global Agriculture ETF (FTAG), which has invested 4.3% of its portfolio in Deere. The fund's other holdings include DowDuPont (DWDP), Bunge Limited (BG), and CF Industries Holdings (CF) at weights of 9.5%, 2.0%, and 1.9%, respectively, as of May 18.