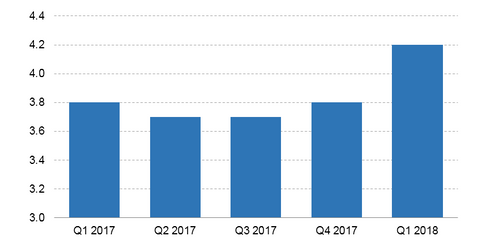 Comcast Is Tackling Financial Stress to Boost Workplace Output
By Ruchi Gupta

May. 26 2018, Updated 1:50 a.m. ET
An employee's financial anxiety can hurt productivity
Comcast (CMCSA) is rolling out more benefits for its workers as it looks to boost employee productivity and retention. Through its Comcast Ventures arm, it launched a financial health startup called Brightside, which it describes as a place for employees to access personalized solutions for their financial needs.
According to PricewaterhouseCoopers, financial stress is the leading cause of low productivity in the workplace. Comcast views addressing employees' financial anxiety as an investment in higher productivity.
Article continues below advertisement
Comcast working to motivate employees to give their best
Technology is shaking up the traditional media industry, which is evident by consumers abandoning traditional pay-TV packages for cheaper online video services. As Comcast works to counter the threat that rivals Netflix (NFLX) and Amazon (AMZN) pose to its television business, Comcast knows it needs a highly motivated workforce in order to succeed.
We've also seen Sprint (S) rolling out retention bonuses to its employees as it looks to keep key talents as it pursues a merger with T-Mobile (TMUS).
Saving on recruitment costs
Comcast is also looking to capitalize on the opportunities that technology has provided, including a strong demand for high-speed Internet with the rise of cloud computing and online video streaming. Looking after the financial wellness of its employees could help Comcast improve employee retention and thus cut recruitment costs and funnel the savings to its Internet services.
Comcast added 379,000 high-speed Internet customers in the first quarter, which helped it grow its Internet revenue by 8.2% year-over-year to $4.2 billion.
Comcast's Brightside program offers a financial wellness solution that combines smart technology, personal assistance, and innovative financial products.