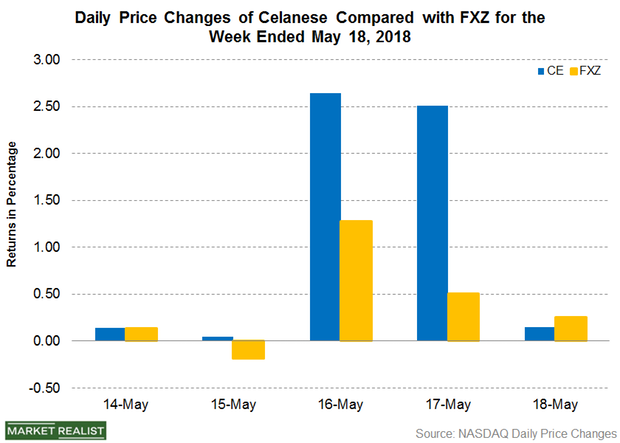 Celanese Increases Product Prices, Stock Gains Momentum
By Peter Neil

Dec. 4 2020, Updated 10:53 a.m. ET
Product price increase
On May 18, Celanese (CE) announced price hikes for several of its products. The price increase will be effective from June 1, or as the contract allows. The effects of the price increase will be seen mostly in the United States, Canada, and South America. Let's look at a list of the affected products and their price changes:
Vinyl acetate-ethylene prices to increase 5%
VAM homopolymer and VAM copolymer prices to increase 5%
Styrene acrylics and pure acrylics prices to increase 5%
Apart from the above-mentioned price hikes, CE has announced the price hikes of MIBK (methyl isobutyl ketone) and MIBC (methyl isobutyl carbinol). The prices of these products will be increased by $150 per metric ton.
Article continues below advertisement
These price increases could be seen as a positive for CE. They could help to drive the company's revenue and profits up, provided sales volumes don't drop. The impact of this price hike will be visible in the company's second-quarter earnings. It reported revenue of $1.9 billion in the first quarter, implying a rise of 26% year-over-year.
Stock price update
These positive business developments, along with a couple of upgrades from UBS (UBS) and Barclays (BCS), have pushed the stock's price up. Celanese stock has risen 5.6% to close at $114.07. As a result, the stock is trading 7.5% above its 100-day moving average price of $106.16, indicating an upward trend.
Year-to-date, the stock has risen 6.5%, while its peers LyondellBasell (LYB) and Eastman Chemical (EMN) have risen 3.6% and 17.6%, respectively. Celanese's 14-day relative strength index score of 67 shows that its stock is close to being overbought.
Investors can hold Celanese indirectly through the First Trust Materials AlphaDEX ETF (FXZ), which had 2.2% exposure to Celanese as of May 18. FXZ rose 2.0% last week.