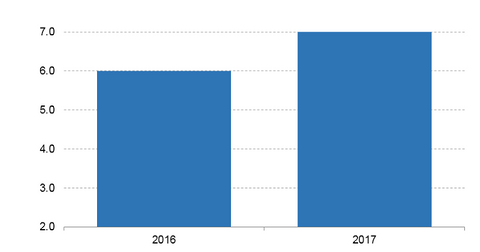 Can Microsoft Help Facebook Grow Its Video Audience?
By Neha Gupta

Updated
Facebook video app for Xbox One
When it comes to doing online video business, particularly where money is made through serving advertisements, audience size is just as important as rich content. Facebook (FB) has been trying to excel in both by making moves such as enabling creators to collect payments from fans so that they can fund their production. The company is also making its videos available on more platforms in order to reach a wider audience.
As part of its efforts to grow its video audience, Facebook recently released a dedicated video app for users of the Xbox One video game console. The launch of the video app for the Xbox One provides the option for people to watch Facebook videos on the big screen in the living room.
Article continues below advertisement
To drive the living room viewing of its videos, which include original productions such as the ones served by Amazon (AMZN) and Netflix (NFLX), Facebook began rolling out video apps for television sets, including an app for Apple TV, last year. There's also a Facebook video app for Samsung (SSNLF) sets.
Tens of millions of Xbox One consoles are out there
Microsoft's (MSFT) Xbox One is one of the top-selling video game consoles, with millions of units shipped globally since the product's debut in 2013. Therefore, a video app for the Xbox One could help Facebook reach a wider audience as it seeks more eyes for its videos in order to encourage marketers to spend more of their video advertising dollars.
CPG brands spending more on digital ads
Consumer packaged goods (or CPG) companies are spending more on digital ads as they pursue Millennials online. CPG companies spent over $7.0 billion on digital advertising last year, up from $6.0 billion in the previous year, according to eMarketer. CPG brands are among the biggest advertisers on Facebook.