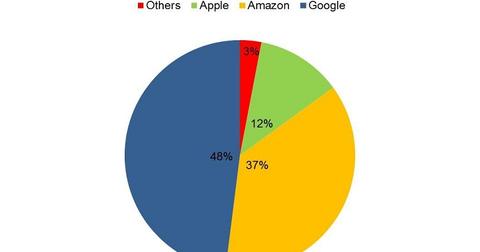 Can Google Beat Amazon at Its Own Game?
By Neha Gupta

Updated
Growing competition straining relationships
Unchecked competition can strain even the strongest of bonds in the commercial world. Earlier this year, we got a taste of what competition can do to relationships when the Walt Disney Company (DIS) decided to remove Facebook (FB) and Twitter (TWTR) representatives from its board.
Facebook and Twitter are aggressively investing in videos as they seek to attract more television advertising dollars, but their video push is straining their relationships with traditional media companies such as Disney.
Article continues below advertisement
Over the years, Alphabet's (GOOGL) Google and Amazon (AMZN) have coexisted as partners and competitors on the Internet. More recently, competition appears to be taking over in their relationship, leading to rising tensions that have led to Amazon's ending its sale of certain Google hardware products and Google's blocking access to its YouTube service from certain Amazon customers.
Google not giving Amazon peace in the cloud
The Google-Amazon competition is everywhere these days. Amazon pioneered cloud computing, but Google is now giving it a run for its money. For example, Spotify (SPOT), once a prominent Amazon cloud customer, now relies on Google for some of its cloud needs.
Amazon pioneered smart speakers, but now Google is threatening to overturn its fortunes. According to Loup Ventures, Google will overtake Amazon to become the world's top vendor of smart speakers by 2022.
Google follows in Amazon's footsteps with Assistant fund
More recently, Google followed Amazon's strategy and launched an investment program to support startups working with its Google Assistant voice agent. 
In 2015, Amazon launched the Alexa Fund to support manufacturers and startups creating products using its Alexa voice agent. Google and Amazon are in a race to popularize their voice agents, which underpin their smart speaker products.