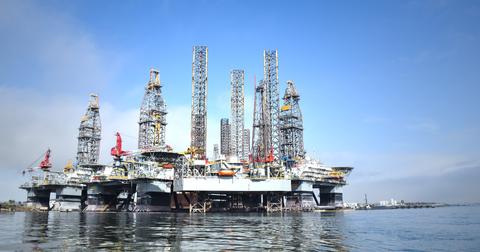 BP's 1Q18 Earnings Surge across Segments, Beat Estimates
By Maitali Ramkumar

Updated
BP's 1Q18 performance
BP (BP) reported its 1Q18 earnings today. Let's take a quick look at its performance in the quarter.
BP's 1Q18 revenues stood at $69.1 billion, around 23% higher than its 1Q17 revenues. BP reported diluted EPS (earnings per ADS) of $0.74 in 1Q18. However, BP's adjusted EPS stood at $0.78, compared to estimated EPS of $0.68. Also, BP's 1Q18 adjusted EPS stood around 70% higher than its 1Q17 adjusted EPS. Given this performance, BP stock could benefit.
Article continues below advertisement
BP's 1Q18 earnings
BP reported earnings of $2.5 billion in 1Q18, compared to $1.5 billion in 1Q17. BP's 1Q18 earnings translated to URC (underlying replacement cost) profits of $2.6 billion in 1Q18, compared to $1.5 billion in 1Q17. URC, a non-GAAP (generally accepted accounting principles) term, is calculated by making alterations to a company's reported earnings for a period. These variances consider inventory holding gains or losses, net positive or negative effects of non-operating items, and fair-value accounting differences net of tax.
In 1Q18, BP's URC EBIT (earnings before interest and tax) also rose due to a rise in upstream earnings, led by higher crude oil realizations. Brent prices rose from $54 per barrel in 1Q17 to $67 per barrel in 1Q18. Also, hydrocarbon production rose 14% YoY. Plus, BP started its Atoll project. See BP's Upstream Portfolio Strengthens with Atoll Startup in 1Q18.
Similarly, BP's downstream earnings increased YoY in 1Q18. Also, Rosneft's (BP has an equity stake in the Russian oil company) earnings rose YoY in the first quarter.
Peers' performance
BP's peers have also posted higher earnings in 1Q18 compared to 1Q17. Royal Dutch Shell's (RDS.A) 1Q18 adjusted EPS stood 43% higher than its 1Q17 adjusted EPS. ExxonMobil's (XOM) 1Q18 EPS were 15% higher than its 1Q17 EPS. Plus, Chevron's (CVX) 1Q18 adjusted EPS were 54% higher than its adjusted EPS in 1Q17.