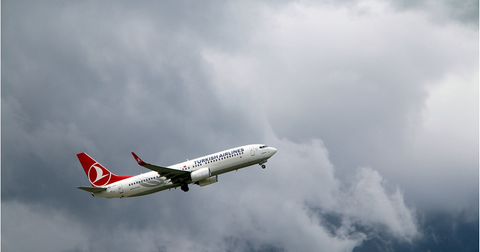 Boeing Declared Quarterly Cash Dividend of $1.71
By Samuel Prince

Updated
Boeing's dividend announcement
On April 30, Boeing (BA), the world's largest aerospace company, declared a quarterly cash dividend of $1.71 per share on its outstanding common stock. Quarterly dividend payments assume an important place in Boeing's capital allocation framework.
The aircraft maker's quarterly dividend is payable on June 1 to stock owners of record as of May 11. Boeing has ~582.6 million equity shares outstanding. Payment of $1.71 per share would take the company's total quarterly cash dividend to close to $1.0 billion.
Article continues below advertisement
BA's past quarterly cash dividends
In the fourth quarter of 2017, Boeing announced a 20.4% rise in its quarterly per share cash dividend from $1.42 to $1.71. Boeing raised its cash dividend almost every quarter in the last year. The financial crisis of 2008 saw the plane manufacturer's dividend growth slow down for the next three to four years. However, Boeing's dividend growth picked up after 2012.
The above chart shows Boeing's dividend growth on a record date basis. As a result, the exact fiscal dividend growth differs from the above chart. In 2013, the Chicago-headquartered company announced a 50% rise in quarterly per share cash dividends from $0.49 in 4Q13 to $0.73 in 1Q14 on a payment basis. If we include stock buybacks in total cash distribution to stockholders along with dividends, the company has returned ~$45.0 billion so far since the end of 2012.
Peer group dividends and growth
Now, we'll look at the dividends of Boeing's aerospace and defense sector (IYJ) peers. Lockheed Martin (LMT), a global security and aerospace company, announced a quarterly per share cash dividend of $2.0 in 1Q18. The company raised its dividends by 10% in 3Q17 from $1.82 per share. On January 25, Northrop Grumman (NOC) announced a 10% rise in quarterly cash dividends to $1.10 from $1.0 in 4Q17.
Raytheon (RTN), another defense technology company, raised its quarterly per share cash dividend to $0.87 in 2Q18 from $0.80 in 1Q18, an 8.8% rise sequentially. Global aerospace and defense major General Dynamics (GD) increased its quarterly per share cash dividend by 10.7% to $0.93 in 1Q18 from $0.84 per share in 4Q17.
In the next section, we'll analyze Boeing's free cash flows and prospects of a dividend rise.