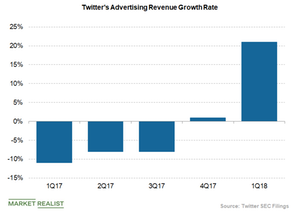 Behind Twitter's Deal with Disney, Viacom, and Comcast
By Sophia Nicholson

Updated
Twitter invests in original shows
Twitter (TWTR) has recently inked deals with media companies including Comcast's (CMCSA) NBCUniversal, Disney (DIS), Viacom, 21st Century Fox (FOXA), and others, to make original shows for Twitter. During the NewFront presentation in New York, the company announced that it is planning to invest in original shows and programming to boost its video watching, which makes up half of the advertising revenues of the company.
The social media giant is launching a division that will aid online influencers to make scripted shows and help marketers make live content for Twitter.
New shows for Twitter users
The company's deal with Disney will add live sports content from ESPN that will include breaking news from SportsCenter, programming on Formula 1, Major League Baseball, and soccer, as well as live and original video from Barstool Sports, Bleacher Report, and Fantasy Focus Live.
Twitter's new programming also includes a Vice News show on the latest quests to explore space and a pop-culture-trending news show from Viacom's Comedy Central. Fox Sports will also create a highlights program for the 2018 World Cup, and there will also be a live show with Turner around the NBA Finals. Last year, Snap (SNAP) had also signed an advertising deal with NBCUniversal.
Notably, Comcast is planning to purchase most of its assets from Fox, which the company has already agreed to sell to Walt Disney for $52.4 billion in December 2017. Not only that, last month, Comcast also got a better offer than 21st Century Fox's offer price for a 61% stake in London-based Sky, which provides sports programming, film, and broadband services.