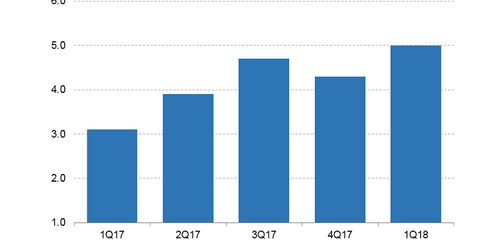 Auditors Saw No Problem with Facebook's Privacy Controls
By Neha Gupta

Updated
Delaware lawsuit could cost Facebook over $70 billion
Facebook (FB) has reported strong 1Q18 financial results at a time when it also faces lawsuits that could cost it billions of dollars.
In the US state of Delaware, a class action lawsuit was filed against Facebook last month. The lawsuit alleges that Facebook failed to protect personal data belonging to more than 71 million American and British users of its social media service. The lawsuit was filed under legislation that provides a minimum $1,000 penalty for any violation, the Guardian newspaper reported. With more than 71 million people said to have been affected, the lawsuit could leave Facebook holding a bill in excess of $70 billion.
Article continues below advertisement
Facebook accused of invading users' privacy
In California, a US federal judge ruled recently that Facebook must face a class action lawsuit in which a group of users allege that Facebook invaded their privacy by applying facial recognition technology to scan their photos without first seeking their consent. The California class action suit, filed by Facebook users in Illinois, could expose Facebook to fines of up to $5,000 for every violation.
There are several other lawsuits related to Facebook's handling of user data.
PwC handed Facebook a clean bill of health
Even as Facebook faces privacy questions, a recent audit found no problem with its privacy protections. PricewaterhouseCoopers, the company that audited Facebook's privacy controls between February 2015 and February 2017, reported to US regulators that its privacy controls were operating with sufficient effectiveness, according to the New York Times.
Facebook posted a $5.0 billion profit in 1Q18 compared to Amazon's (AMZN) $1.6 billion profit and Alphabet's (GOOGL) $9.4 billion profit in the same period. Twitter (TWTR) posted a $61 million profit, and Snap (SNAP) suffered a $385.8 million loss in 4Q17.