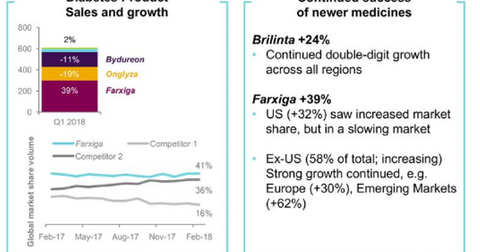 AstraZeneca's Farxiga Sees Impressive 44% Growth in Q1 2018
By Kenneth Smith

Updated
Farxiga
AstraZeneca's (AZN) Farxiga generated product sales of $299.0 million, an increase of 44.0%. During the first quarter, the drug consolidated its global leadership position within the sodium glucose co-transporter 2 (or SGLT2) inhibitor class. Farxiga's emerging market sales increased 64.0% to $69.0 million in the first quarter. This growth reflected ongoing launches and improved levels of patient access.
In March 2017, the drug became the first SGLT-2 inhibitor medicine to be approved in China with promising initial results in access and performance.
Farxiga's US sales grew 32.0% to $127.0 million in the first quarter. This improvement was attributable to AstraZeneca's higher level of participation in affordability programs in the first quarter.
Farxiga's Europe sales increased 48.0% to $74.0 million as the drug gained overall market share. Farxiga also retained leadership in a class that had the strongest growth among innovative oral diabetes medicines in 2017.
In Japan, AstraZeneca's partner Ono Pharmaceutical recorded 57.0% growth in Farxiga sales to $11.0 million during the first quarter.
Article continues below advertisement
Bydureon
Bydureon sales declined 9.0% to $139.0 million in the first quarter. Its US sales dropped 13.0% to $111.0 million due to pricing headwinds that offset encouraging performance from the launch of the BCise device. Bydureon's Europe sales increased 5.0% to $23.0 million on the back of market growth in the first quarter.
Onglyza
Due to adverse pressures on the dipeptidyl peptidase-4 (or DPP-4) class and a shift of patients toward medicines and classes of medicines with documented CV benefits, sales of Onglyza declined 16.0% to $129.0 million in the first quarter.
Onglyza's sales grew 33.0% in emerging markets to $40.0 million in the first quarter. This growth occurred on the back of a 167.0% increase in sales in China to $16.0 million. Its Europe sales, on the other hand, declined 15.0% to $23.0 million, which reflected the broader trend of a shift away from the DPP-4 class.
In the next part of this series, we'll take a look at the performance of Crestor and the respiratory category.