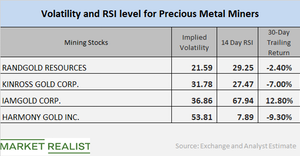 Are Miners Closely Tracking Gold and Silver?
Mining stock analysis
Most precious metals mining stocks have fallen in the last few months due to falling gold prices. The US dollar's revival has also affected precious metals and mining stocks recently.
The potential movement in the interest rate could cause a further slump in precious metals, taking miners along for the ride. Miners tend to closely follow movements in precious metals.
In this part of the series, we'll look at miners' RSI (relative strength index) scores and implied volatilities. The miners we've selected for our analysis are Randgold Resources (GOLD), Kinross Gold (KGC), IAMGOLD (IAG), and Harmony Gold (HMY). Among these four miners, GOLD, KGC, and HMY have fallen 2.4%, 7%, and 9.3%, respectively, in the last month. IAG has, however, managed a rise of 12.8%.
Article continues below advertisement
UGLD and USLV
The gold- and silver-based ETFs that are heavily traded in the market include the VelocityShares 3x Long Gold ETN (UGLD) and the VelocityShares 3x Long Silver ETN (USLV). These ETFs have fallen 6.7% and 14.9%, respectively, on a year-to-date basis.
Implied volatility measures the price fluctuations in an asset's price based on variations in the price of its call option. GOLD, KGC, IAG, and HMY have implied volatilities of 21.6%, 31.8%, 36.9%, and 53.8%, respectively.
RSI readings
An RSI score of higher than 70 suggests that a stock could be overbought and that its price could fall, whereas a score of below 30 indicates that a stock could be oversold and that its price could rise. GOLD, KGC, IAG, and HMY have RSI scores of 29.2, 27.5, 67.9, and 7.9, respectively.