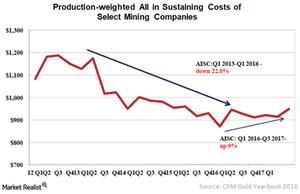 Are Gold Miners' Cost Concerns Overblown?
By VanEck

May. 3 2018, Updated 9:01 a.m. ET
VanEck
2. Market worries that a new cycle of mining cost inflation has begun: Several companies have guided to higher all-in mining costs in 2018 and we have seen some press and research that suggests costs are beginning to rise. Since 2012, industry average all-in mining costs have fallen roughly 25% to around the $900 per ounce level in 2017. Based on company guidance so far, we reckon these costs will likely rise to roughly $925 in 2018. After talking with many producers about their cost drivers, we believe cost concerns are overblown and that costs will fluctuate around the $900 level for the foreseeable future. Many companies have long-term contracts for materials and consumables. Some have hedged fuel and currencies at low levels. It seems the labor market has tightened somewhat in Australia, but companies are not reporting any wage pressures In fact, BMO Capital Markets sees the all-in costs of the gold companies in their coverage universe declining 8% in 2019.
Article continues below advertisement
Market Realist
Gold miners' all-in sustaining costs are stabilizing
In its 2018 "Gold Yearbook," the New York–based CPM Group showed that AISCs (all-in sustaining costs) for gold mining companies (GDX)(IAU) bottomed out in 1Q16 to $871, down 27% from the peak of $1,187 in 3Q12. AISCs have risen since then to average $949 in 3Q17, up around 9% from 1Q16. AISCs take into account production costs plus all costs relating to sustaining current production and sustaining capital expenditure.
Some miners have guided for lower AISC
However, recent data from some gold mining companies (GLD) points toward stabilizing AISC. Barrick Gold (ABX), which reported its first-quarter 2018 earnings recently, recorded production of 1.05 million ounces of gold at an all-in sustaining cost of $804 per ounce. The company has guided that its AISC will remain in the range of $765 to $815 per ounce for 2018.
Evolution Mining, a leading Australian gold miner, continued to lower its costs per ounce in the first quarter. It reported AISC of $768 per ounce in 1Q18, a new quarterly record low, down from $784 per ounce in the previous quarter and $825 per ounce in 1Q17.
Agnico Eagle Mines' (AEM) AISC rose to $889 in 1Q18 from $741 in 1Q17 and is expected to stabilize at the current level.