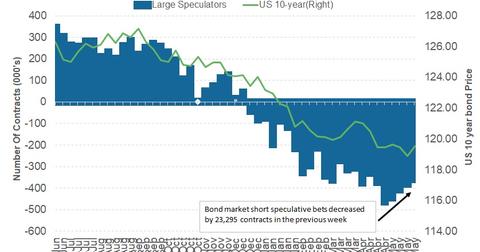 Are Bond Yields Taking a Breather?
By Ricky Cove

Updated
Bond markets rebound after Fed minutes
The US bond market had some relief from its ongoing slide as the Fed's May meeting minutes were less hawkish than expected. The highlight of the minutes was that members were alright with inflation breaching 2% in the near term, which means they are not likely to aggressively raise interest rates to combat inflation. The Fed also wants to adjust the rate paid on excess reserves by 20 basis points on June 13, keeping the federal funds spread at 0.25%. The Vanguard Total Bond Market ETF (BND) rose 0.75% last week and closed at $79.13.
Article continues below advertisement
Bond markets and speculator positions
Last week (ended May 25), the ten-year (IEF) yield closed at 2.9%, depreciating by 13 basis points. The two-year yield (SHY) closed at 2.5% (down by six basis points), and the longer term 30-year yield (TLT) closed at 3.1% (down by 11 basis points).
According to the Commodity Futures Trading Commission's latest Commitment of Traders report, speculator short positions decreased last week. As of May 22, net bearish positions fell by 23,295 contracts from 381,922 contracts to 358,627 contracts. However, this position was before the meeting minutes were released—there could be a further decline in response to the minutes.
The week ahead for bond markets 
Political uncertainty in Europe and confusing communication from the White House with respect to the US-North Korea summit, the rallying US dollar, and geopolitical issues are all likely to impact bond yields this week. On the upcoming May jobs report, investors are likely to focus on average hourly earnings rather than a number of jobs added. If hourly earnings beat expectations, we could see bond (BSV) yields spring back. Otherwise, the ten-year yield could test the 2.85%–2.90% zone.