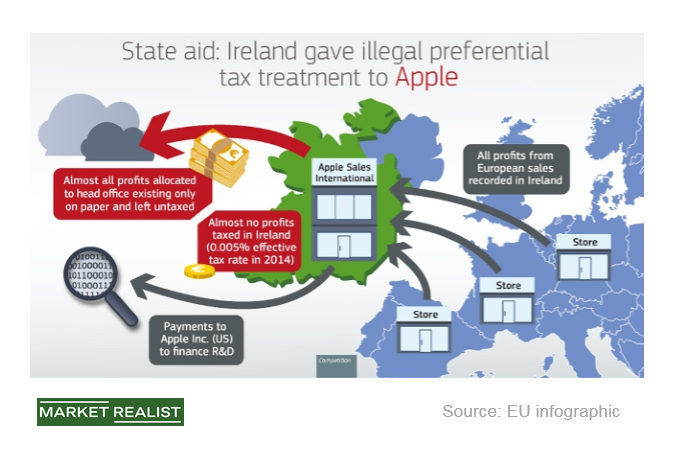 Apple's EU Tax Dispute: What You Need to Know Now
By Ruchi Gupta

Nov. 20 2020, Updated 10:59 a.m. ET
Apple's EU tax appeal hearing could begin before end of 2018
Ireland expects to have completed collecting the disputed taxes the EU is demanding from Apple (AAPL) by the end of 3Q18. The EU is demanding that Ireland recovers nearly $16 billion in alleged unpaid taxes from Apple. The EU's tax claim is based on a 2016 ruling by the European Commission that Ireland extended unfair tax incentives to Apple.
Both Apple and Ireland reject the EU's tax claim and they are appealing the ruling in court. The hearing of the appeal is expected to begin before the end of 2018.
Article continues below advertisement
Bank of New York Mellon tapped to provide funds custody
In the meantime, Ireland must collect the disputed taxes from Apple even as they wait for the outcome of their appeal. Ireland created a special account that will hold the funds collected from Apple. Ireland chose Bank of New York Mellon (BK) to be the custodian of that account. Goldman Sachs (GS), BlackRock (BLK), and Amundi will manage the funds.
Bank of New York Mellon is a leading funds custody provider and it held more than $33 trillion in assets under custody and supervision at the end of 2017.
Amazon also fighting EU tax claim
Apple is not the only American multinational facing tax questions in Europe. Last year, the EU ordered Amazon (AMZN) to pay nearly $300 million in back taxes, claiming that the e-commerce giant enjoyed illicit tax benefits from Luxembourg, one of the EU member countries.