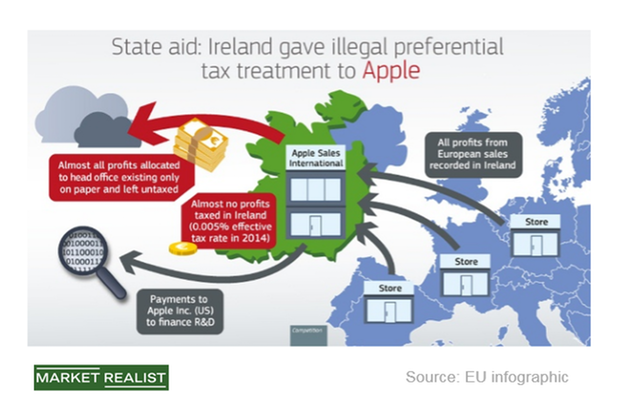 Apple Just Paid First Batch of $15 Billion in Back Taxes
Apple benefited from Irish tax system
Two years ago, the European Commission said that Apple (AAPL) had profited from illegal tax benefits in Ireland from 2003 to 2014. It accused Apple of lowering its effective tax rate due to an Irish structure that helps companies avoid massive tax bills. Apple routed profits from the region through Ireland, which reduced the iPhone maker's tax obligations to other Eurozone countries.
Ireland was told by the European Commission to recover 13 billion euros ($15 billion) in back taxes from Apple.
Article continues below advertisement
Apple paid $1.77 billion in back taxes to Ireland
Apple has finally started paying back taxes to the Irish government. The technology giant paid $1.77 billion (1.5 billion euros) of the total $15 billion it owes the Irish government to an escrow account set up to hold the money. Apple plans to keep making payments, but unfortunately for Apple, the dollar is significantly weaker than a couple of years ago.
European governments are mulling over a tax reform that would tax technology companies based on revenue generated in each European country. Over the last year or so, the Eurozone has taken a sterner stance on American technology companies. The commission slapped a $122 million fine on social media giant Facebook (FB) for giving misleading information during its acquisition of WhatsApp. It also fined Alphabet's (GOOGL) Google a whopping $2.7 billion over antitrust concerns.