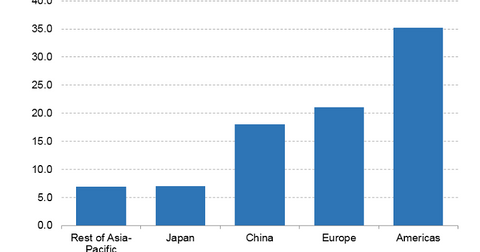 Apple in Ireland: Looking beyond the Tax Dispute
By Ruchi Gupta

Updated
Apple drove 25% economic growth in Ireland
Despite the tax dispute between Apple (AAPL) and the EU (European Union), which has received a lot of press coverage recently, Apple has been a big boost to Europe's economy. According to a report released recently by the IMF (International Monetary Fund), iPhone sales accounted for as much as a quarter of Ireland's economic growth in 2017. The Irish economy grew 7.8% in 2017, and it's projected to grow 4.5% in 2018 and 4.0% in 2019.
Article continues below advertisement
In China, where Apple products such as the iPhone are assembled, the economy grew 6.9% in 2017 and is projected to grow 6.6% this year. The IMF estimates that 1.5 billion smartphones were shipped globally in 2017. Apple was the world's second-largest smartphone vendor behind Samsung (SSNLF) in 2017, according to Gartner.
Ireland to collect about $16 billion from Apple
Apple's European headquarters is located in Ireland. According to the European Commission, the executive arm of the EU economic bloc, Apple owes billions of dollars in unpaid taxes because of an alleged illicit tax dealing with the Irish government. Apple and Ireland dispute the EU's tax claim, and they are challenging it in court. However, Apple and Ireland agreed to collect the funds Apple would be required to pay in back taxes and put the funds in a special account.
Bank of New York Mellon (BK) was selected to be the custodian of the account, while Goldman Sachs (GS), Amundi SA, and BlackRock (BLK) won contracts to manage the funds, which amount to about $16 billion.
European revenue grew 14%
Apple's European operations generated $21.1 billion in revenue, up 14% year-over-year in the company's fiscal 1Q18 (calendar 4Q17).