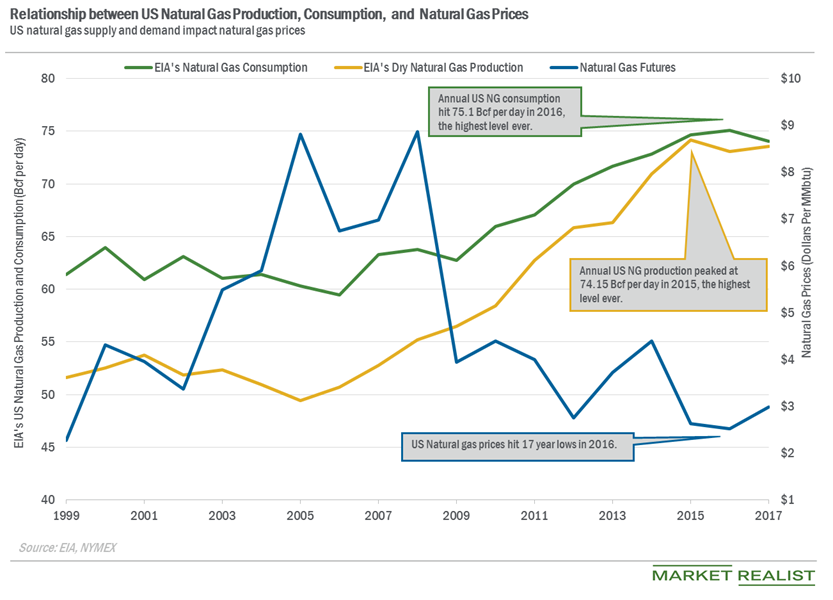 Analyzing US Natural Gas Consumption Trends
Weekly US natural gas consumption  
PointLogic, a market intelligence company, estimates that US natural gas consumption dropped ~1.4% to 56.7 Bcf per day on May 17–23. The consumption also decreased ~0.7% or by 0.4 Bcf per day YoY (year-over-year).
The YoY drop in natural gas consumption is due to lower consumption from the residential and commercial sector.
The EIA estimates that the monthly US natural gas consumption reached a record high of 110.5 Bcf per day in January. US natural gas prices have increased ~79.4% since March 3, 2016, partly due to rising demand and exports. The United States Natural Gas ETF (UNG) aims to track active natural gas futures. UNG has increased ~3.7% since March 3, 2016.
Article continues below advertisement
The First Trust Natural Gas ETF (FCG) has increased ~18.2% during the same period. The First Trust Natural Gas ETF (FCG) aims to track the performance of an index of companies mainly involved in natural gas exploration and production. Enerplus (ERF), Encana (ECA), and Continental Resources (CLR) account for ~13.1% of FCG's holdings. These stocks have increased ~257%, ~167%, and ~162%, respectively, since March 3, 2016. These stocks have been the top percentage gainers in FCG's holdings since March 3, 2016.
US natural gas consumption estimates  
US natural gas consumption averaged 74.22 Bcf per day last year. According to the EIA, US natural gas consumption could average ~79.06 Bcf per day in 2018 and ~79.39 Bcf per day in 2019. The annual US natural gas consumption average would hit a new record this year and next year if these projections are achieved.
Impact  
If the EIA's natural gas production and consumption projections are achieved, US natural gas production could surpass the consumption in 2018, which could pressure natural gas prices. However, an increase in exports could limit the impact of excess supply.
Next, we'll discuss US natural gas price forecasts.