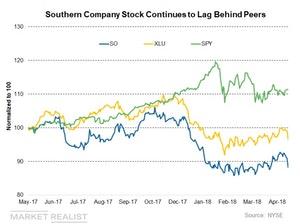 Analyzing Southern Company Stock
Southern Company
In this part, we'll discuss Southern Company (SO)—the second-largest rate-regulated utility giant. Southern Company stock has incessantly underperformed its peers in the last few years due to its power plant glitches. Frequent delays and cost overruns at Southern Company's power plants severely dented its market performance. So far in 2018, Southern Company stock has fallen 9%.
Southern Company reported adjusted earnings of $0.88 per share for 1Q18 and exceeded the consensus estimates. In 1Q17, Southern Company reported earnings of $0.66 per share. Southern Company's earnings in 1Q18 were supported by favorable weather and infrastructure investments.
Article continues below advertisement
Valuation
Southern Company stock is trading at an EV-to-EBITDA multiple of 10.2x. The company's five-year historical valuation average is near 11.0x. As a result, the stock appears to be trading at a discount compared to its historical average.
Target price
Southern Company has a mean target price of $46.83, which implies a potential gain of ~6%. Currently, Southern Company is trading at $44.15.
As of May 9, 17 analysts are tracking Southern Company stock. Eight analysts recommend a "hold," three recommend a "buy," one recommends a "strong buy," four recommend a "strong sell," and two recommend a "sell."
US utilities (XLU) are expanding beyond their traditional electric operations due to insignificant growth opportunities. Natural gas, midstream, and renewables are some of the high-growth areas where power companies are infiltrating. Recently, the utility sector continued to consolidate. To learn more, read CenterPoint Energy to Buy Vectren in $6 Billion Deal.